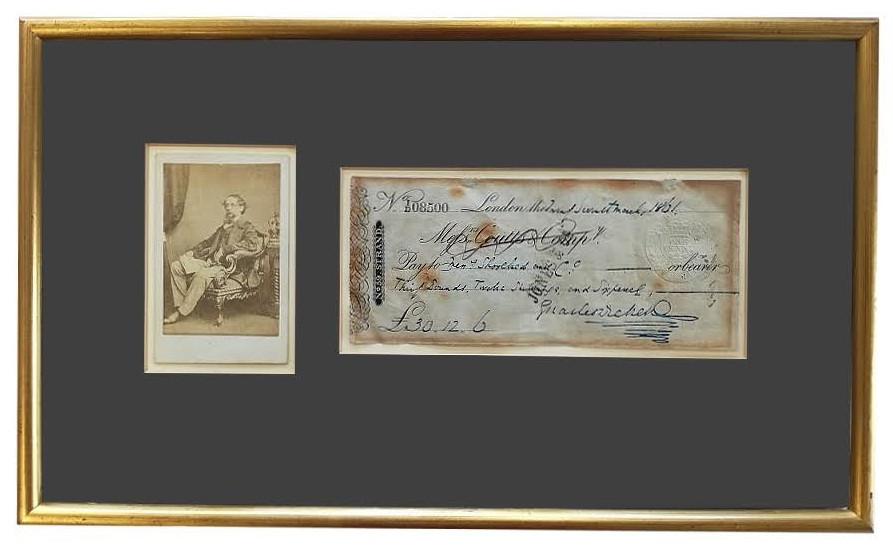 Charles Dickens signed cheque
A Coutts cheque signed by the great Victorian author and social reformer Charles Dickens on March 27, 1861
Charles John Huffman Dickens (1812-1870) is regarded as the greatest English writer of his age. His broad body of work includes some of the most celebrated novels ever written - including Oliver Twist, Great Expectations and A Christmas Carol.
Dickens was born into a middle class family in Portsmouth, but his circumstances changed dramatically when his father was slung into a debtors' prison in 1824. Dickens was forced to leave school and start work in a boot polish factory to support his family.
While his father was freed a few months later, allowing Dickens to return to school, this formative experience left him burning with a righteous anger at the conditions the working classes had to endure.
Dickens purchased Gads Hill, his country home in Higham, Kent, in 1856 and spent a considerable sum refurbishing it over the next few years.
This cheque for £30.12s.6d is made out to carpet and curtain makers James Shoolbred & Co.
Dickens writes out the date, the recipient and the sum in blue ink. His signature, with its characteristic multiple underlines, is to the bottom left. 
The piece is displayed in an attractive 14.1 x 8.2 inch gold frame along with an antique photograph of Dickens, depicting him in 1861. The reverse is fixed with a card displaying information from Louise Ross & Co. Auctioneers. 
Free global shipping. 28-day returns. Certificate of Authenticity and our Lifetime Moneyback Guarantee of Authenticity included. 
Payment & Security
Your payment information is processed securely. We do not store credit card details nor have access to your credit card information.