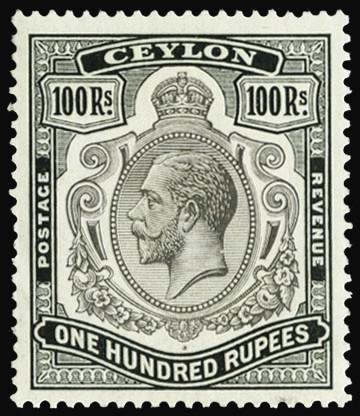 Ceylon 1921-32 Script wmk 100r grey-black (SG359he)
Ceylon 1921-32 Script watermark 100r grey-black (SG359he). 1921-32 Script watermark 100r grey-black, variety 'Break in lines below left scroll' (R4/9).
Well-centred very fine example with lovely fresh colour and original gum. The odd shortish perforation mentioned for accuracy only as this is a particularly prominent example of this variety.
Very rare. Accompanied by a Sismondo Certificate of Authenticity (2011) incorrectly describes the shade as 'brownish grey', but gives the correct SG number.
An ex Stanley Gibbons stock item with a Catalogue value of £6,000.
Click here to read our full newsletter on this item here, to discover more.
Free global delivery. 28-day returns. 
BUY NOW: Order online, by phone +44 (0)117 933 9500, or via email info@paulfrasercollectibles.com
Payment & Security
Your payment information is processed securely. We do not store credit card details nor have access to your credit card information.