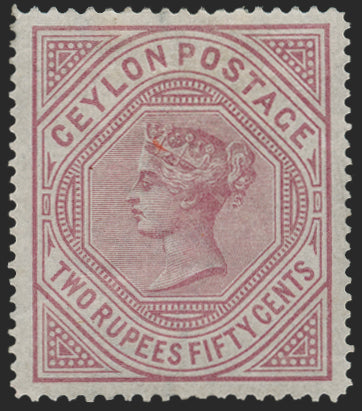 CEYLON 1872-80 2r 50 dull rose, SG138
Ceylon 1872-80 2r 50 dull rose, perforations 12½ x 14, SG138.
A fine mint example with fresh colour and large part original gum. Minor wrinkles and gum disturbance do not detract from what is a really fine example, of this very scarce high value stamp. Hardly ever seen so fine.
The Stanley Gibbons catalogue value is £800.
BUY NOW: Order online, by phone +44 (0)1534 639 998, or via email info@paulfrasercollectibles.com
Payment & Security
Your payment information is processed securely. We do not store credit card details nor have access to your credit card information.