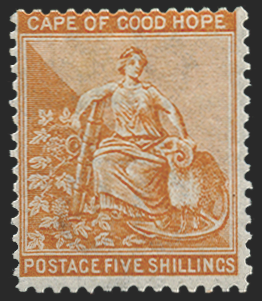 South Africa CAPE OF GOOD HOPE 1871-76 5s yellow-orange, SG31
South Africa Cape of Good Hope 1871-76 5s yellow-orange, watermark CC, 'Hope seated with Vine and Ram', no outer frame-line, SG31.
Fine mint quality example far above average with large part original gum. Minor wrinkles and slightly off-centre, but rarely seen so fine for this very scarce stamp.
This high value 5 shilling value in the set is very difficult to find in mint condition.
The stamp depicts the allegorical figure of Hope seated with a ram and vines. Until 1893, this was the only design except for the Cape Triangulars.
The Stanley Gibbons catalogue value is £700.
Payment & Security
Your payment information is processed securely. We do not store credit card details nor have access to your credit card information.