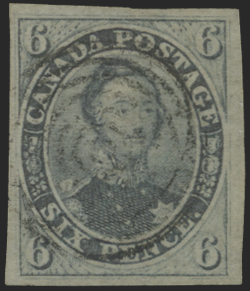 Canada 1851 6d slate-violet used, SG2
Canada 1851 "Prince Consort" 6d slate-violet on laid paper, SG2.
A fine and attractive example with large to very large margins, used with light target cancel.
Accompanied with a British Philatelic Association certificate of authenticity (1999).
Stanley Gibbons catalogue value: £1,400.
Payment & Security
Your payment information is processed securely. We do not store credit card details nor have access to your credit card information.