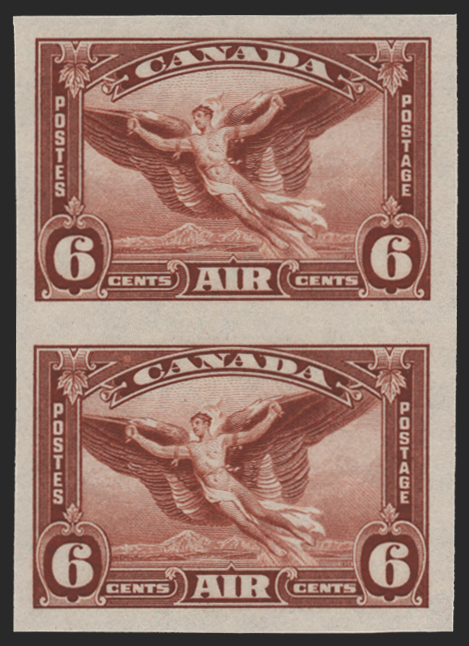 Canada 1935 Air 6c red-brown 'Daedalus", SG355
Canada 1935 Airmail 6c red-brown "Daedalus", imperforate vertical pair, SG355.
Very fine quality unmounted mint with full original gum.
Only 150 pairs existed and now very scarce in this choice quality.
This design features Daedalus of Ancient Greek Mythology. The background, behind Daedalus shows Mt. Baker (10,781 ft.), which is in the Cascade Range of Northern Washington State (Southern border of British Columbia).
Daedalus was a skilled craftsman and artist, and he was the father of Icarus.  To escape from a tower, where he was imprisoned, he fabricated wings made of sewn feathers that were waxed for himself and his son, Icarus.  He warned Icarus not to fly too high, because the heat from the sun would melt the wax, and not to fly too low, because the mist from the ocean would soak the feathers.  Daedalus succeeded in his flight, but Icarus flew too high and fell to his death.
BUY NOW: Order online, by phone +44 (0)117 933 9500, or via email info@paulfrasercollectibles.com
Payment & Security
Your payment information is processed securely. We do not store credit card details nor have access to your credit card information.