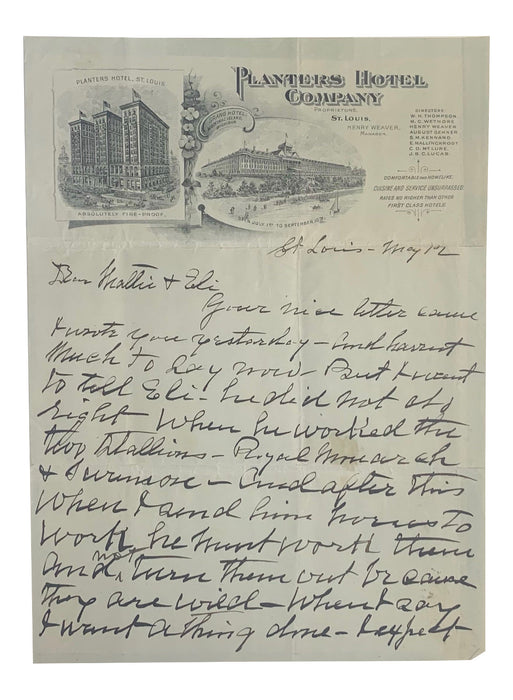 'Buffalo Bill' Cody signed letter
A handwritten, signed letter by the legendary Old West showman William 'Buffalo Bill' Cody
William Frederick "Buffalo Bill" Cody (1846 – 1917) was an American soldier and military scout who found international fame as a showman.

Cody served in the Union Army during the U.S Civil War and later as a scout during the Indian Wars. In 1883 he founded Buffalo Bill's Wild West, a travelling company of performers including cowboys, Native Americans and legendary Old West figures.

He toured across Europe with his show, performing for heads of state and royalty including Queen Victoria, and became one of the world's most famous men of his era.
A hand-written letter in black fountain pen ink over two light green sheets of Planters Hotel Company letterhead, measuring approx. 7.5 x 10 inches.
In the letter, Cody expresses some anger that his prior instructions had not been followed.
In part, "I want to tell Eli he did not do right when he worked to two stallions . . . and after this when I send him horses to work he must work them and not turn them out because they are wild.
"When I say I want a thing done - I expect to be obeyed - and in the future remember that I want my nephew to help and do what he is told to do - but not to cook all the time - I am paying Mattie to do the cooking".
Signed at the close "This is all, Good night, Col".
The piece suffers from expected mailing folds, light creases, small separations along folds and a couple of light spots.
Provenance: ex Stanley Gibbons.
Click here to discover more about this item.
Free global delivery. 28-day returns. Certificate of Authenticity and our Lifetime Moneyback Guarantee of Authenticity included
BUY NOW: Order online, by phone +44 (0)1534 639 998, or via email info@paulfrasercollectibles.com
Payment & Security
Your payment information is processed securely. We do not store credit card details nor have access to your credit card information.