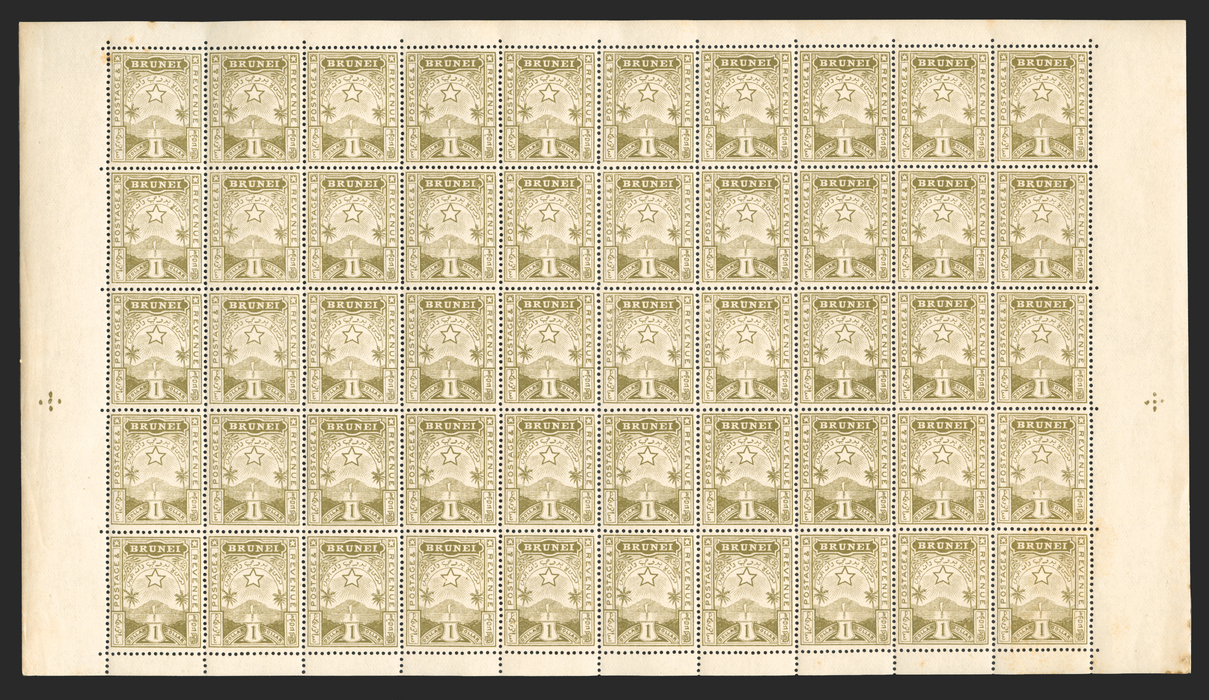 BRUNEI 1895 $1 yellow-olive, SG10
Brunei 1895 $1 yellow-olive, complete sheet of 50 (10x5), SG10.
A remarkable unmounted mint complete sheet with full original gum. A few trivial marginal tone specks (just affecting position 1), otherwise very fine with perfect gum (showing no evidence of the backing disturbance that often spoils this issue).
A rarity in this form and in such fine condition.
A very important philatelic rarity being a complete sheet of the highest value denomination of the first stamp issue from Brunei, which was the subject of much philatelic debate. When these "Star and Crescent" design stamps were first issued in 1895, they were considered as bogus or, at the very least, an issue made for philatelic purposes only.
Consequently, this led to a lot of research on the subject and in 1933 the original agreement between Sultan Hashim and J.C. Robertson, dated 20 August 1894 was published. The agreement made clear that the stamps fulfilled a genuine postal purpose.
Although it is clear that Robertson and his partners had intended to exploit the philatelic sales for their own financial benefit, the agreement does testify, along with collaboratory evidence, that the stamps were used by the Sultan for his postal service.
However, because Brunei did not belong to any local or international postal union, the stamps were only valid for use within the state or on mail to Labuan or Sarawak. Although most of the covers which have survived are addressed to Robertson's associates, there are enough commercially used covers and cards which still exist to prove that there was, indeed, a postal service.
The Stanley Gibbons catalogue value is £1,400+.
BUY NOW: Order online, by phone +44 (0)1534 639 998, or via email info@paulfrasercollectibles.com
Payment & Security
Your payment information is processed securely. We do not store credit card details nor have access to your credit card information.