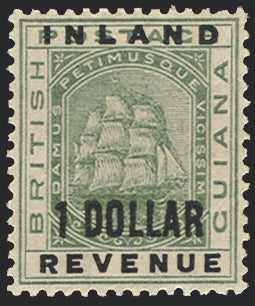 BRITISH GUIANA 1888-89 $1 green (UNUSED), SG185
British Guiana 1888-89 $1 green, "Sailing Ship Sandbach", SG185.
Fine mint example with original gum. Slight gum creasing, which is immaterial to overall quality and of fine fresh appearance.
A very rare stamp with only 1,200 sold without the surcharge, for postal and revenue purposes.
The Stanley Gibbons catalogue value is £500.
Payment & Security
Your payment information is processed securely. We do not store credit card details nor have access to your credit card information.