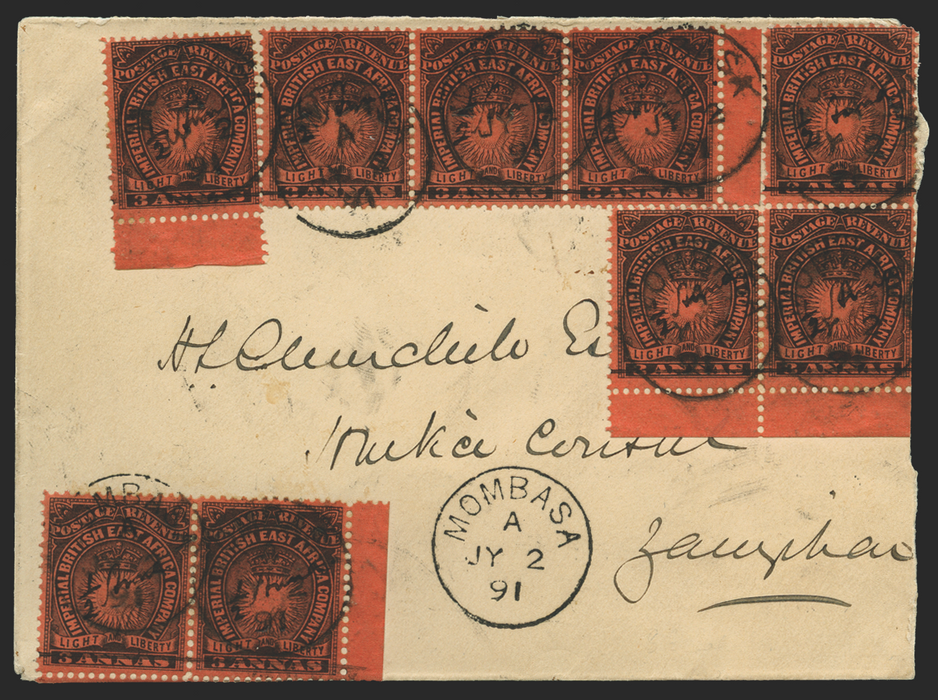 British East Africa 1891 Cover ½a on 3a black/dull red, SG24
British East Africa 1891 (JY 2) large part cover (with embossed royal arms on flap) from Mombasa to "H. L. Churchill Esq, H. M. Vice Consul, Zanzibar", bearing NINE EXAMPLES of the 1891 (May) "½ Anna/A.B." on 3a black/dull red MANUSCRIPT PROVISIONAL, all emanating from the lower right corner of a sheet, comprising a lower marginal single, a right marginal horizontal strip of 3, a lower marginal block of three and the lower right corner horizontal pair, tied by individual strikes of "MOMBASA/A" circular date stamps, with a further superb strike at foot, SG24.
On reverse, despatch circular date stamp and arrival circular date stamp of following day.
The cover is reduced at the right (where a further pair was removed, leaving one of the remaining stamps with trimmed perforations) but a unique and extraordinary franking which represents the only known cover with this rare provisional, the only surviving multiples and indeed a large proportion of all the recorded examples!
Provenance: Ex award winning collection of George T. Krieger, Andy Reynard (Spink 2009) and Donald R. Hunt (1966), with a history dating back to November 1899, when Mr Churchill wrote to the Stanley Gibbons Monthly Journal to describe the circumstances under which he had sent the cover to himself, these being the ½a stamps available when he visited the Mombasa Post Office, and the last still in stock. A full description (of the cover in its present state) followed in the Dec 1899 Stanley Gibbons Monthly Journal.
The Stanley Gibbons catalogue value of the nine stamps is £24,750. The value of this unique piece of postal history would be expected to be far greater.
Click here to discover more about this stamp.
Payment & Security
Your payment information is processed securely. We do not store credit card details nor have access to your credit card information.