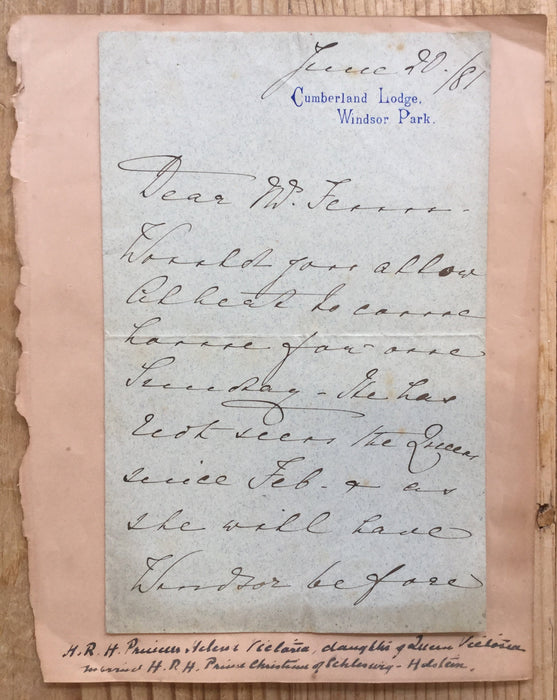 HRH Princess Helena handwritten letter
Dutch Auction Day 7 Price: £78.00
Dutch Auction Day 6 Price: £98.00
Dutch Auction Day 5 Price: £117.00
Dutch Auction Day 4 Price: £137.00
Dutch Auction Day 3 Price: £156.00
Dutch Auction Day 2 Price: £176.00
Dutch Auction Starting Price: £195.00
An attractive handwritten letter from HRH Princess Helena (1846-1923)
HRH Princess Helena was the fifth child of Queen Victoria and Prince Albert, and their third daughter. A strong advocate of nursing and needlework.
Princess Helena handwrites the letter on June 20, 1881, on Cumberland Lodge, Windsor-headed notepaper. Cumberland Lodge is the 17th century house where Helena and her husband resided.
Helena writes on three sides of paper, adding a beautiful signature at the foot. The letter is attached to a pink paper backing.
Provenance: The S.E Waits Autograph Collection
Free global shipping. 28-day returns. Certificate of Authenticity and our Lifetime Moneyback Guarantee of Authenticity included.
BUY NOW: Order online, by phone +44 (0)1534 639 998, or via email info@paulfrasercollectibles.com
Payment & Security
Your payment information is processed securely. We do not store credit card details nor have access to your credit card information.