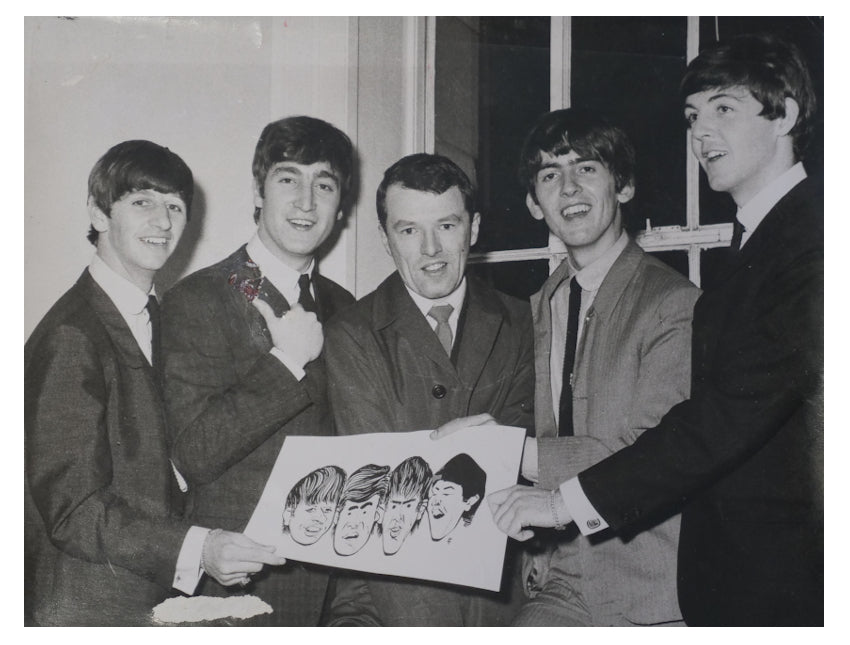 The Beatles fully-signed cartoon portrait
A wonderful cartoon portrait of the Beatles, signed by all four members of the band.
Hugely attractive, large signatures, signed in the opening months of UK Beatlemania.
Accompanied by superb photo provenance.
Background:
On 7 October 1963 the Beatles performed in Dundee, Scotland. This caricature portrait was drawn by Fraser Elder, a cartoonist with local newspaper The People's Journal, who was sent to interview the band.

In total, 11 copies of the cartoon were printed, and four of those were requested by the band themselves.

The Beatles signed a handful to be awarded as competition prizes.
This wonderful cartoon features four superb examples of The Beatles' signatures, signed boldly in blue ink.
The artwork measures 12" by 8 1/2", which makes it ideal for framing and display.
A fantastic, fresh-to-the-market signed Beatles item of real rarity and quality. 
Click here to discover more about this item

Payment & Security
Your payment information is processed securely. We do not store credit card details nor have access to your credit card information.