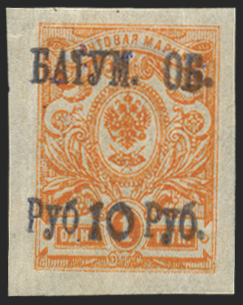 BATUM BRIT OCC 1919 10r on 1k orange, SG7
Batum British Occupation 1919 (13 Apr) 10r on 1k orange (imperforate), type 2 surcharge, SG7.
A fine mint example with large part original gum and with fresh colour. A mark on the reverse just shows through, and light gum creasing, but still fine quality for this rare issue.
Only 2,350 stamp were originally issued.
The Stanley Gibbons catalogue value is £80.
After the Treaty of Versailles, stamps of Batum were issued for the short period between 1918-20 under the occupation of the British. It then became an autonomous republic of the Georgian SSR in 1921.
BUY NOW: Order online, by phone +44 (0)1534 639 998, or via email info@paulfrasercollectibles.com
Payment & Security
Your payment information is processed securely. We do not store credit card details nor have access to your credit card information.