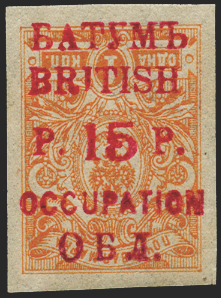 BATUM BRIT OCC 1919 15r on 1k orange (UNUSED), SG20avar
Batum British Occupation 1919 (27 Nov) 15r on 1k orange, type 5 surcharge in red INVERTED, SG20a var.
A fine quality example with original gum. Mikulski hand stamp on reverse.
Scarce, with only 1,400 issued of the basic stamp and hardly ever seen with the inverted variety and red surcharge. 
Payment & Security
Your payment information is processed securely. We do not store credit card details nor have access to your credit card information.