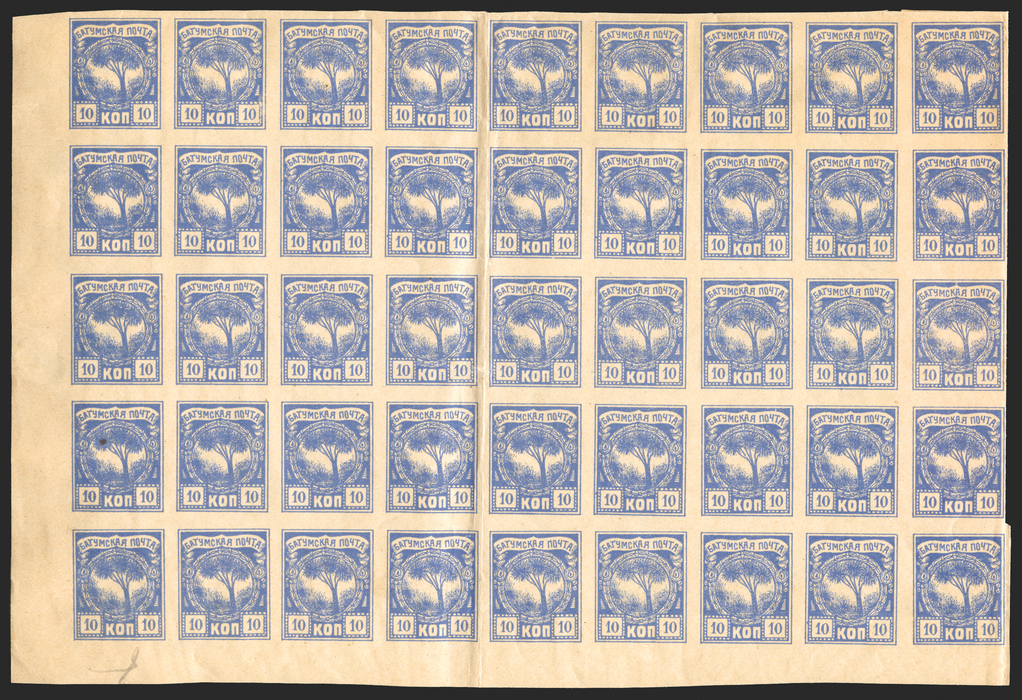 BATUM BRIT OCC 1919 10k ultramarine, SG2
Batum British Occupation 1919 (4 Apr) 10k ultramarine "Aloe Tree", block of 49 (10x5, with bottom right stamp cut away, right column folded back for display) from lower left corner of the sheet of 198 (11 x 18), being R7-11/1-10, the top four rows with normal 'AB/CD' transfer blocks whereas the bottom row shows ABABABCDC (the last three positions 'abnormal'), SG2.
A fine unmounted mint block with full original gum (except disturbed on about ten stamps at upper right). There is an unobtrusive horizontal crease affecting row 9, and two vertical creases (mainly between impressions), often seen with blocks of this size. Despite minor imperfections, it remains a fine quality piece with lovely colour and appearance.
Very rare as only 260 sheets were originally printed and a rare and fascinating multiple.
The Stanley Gibbons catalogue value is £466+.

BUY NOW: Order online, by phone +44 (0)1534 639 998, or via email info@paulfrasercollectibles.com
Payment & Security
Your payment information is processed securely. We do not store credit card details nor have access to your credit card information.