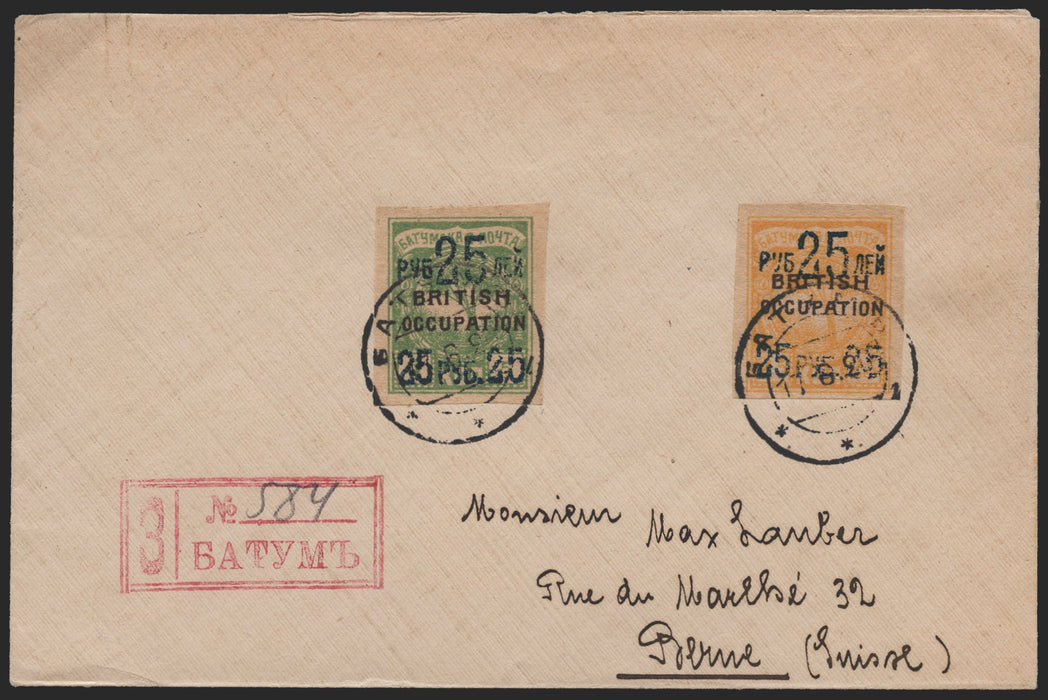 Batum Brit Occ 1920 Registered Cover to Switzerland, SG42a, 43a
Batum British Occupation 1920 (17 June) registered "Lauber" cover to Switzerland, franked by 1920 (1 Apr) 25r on 5k yellow-green and 25r on 25k orange-yellow with type 7 surcharges in BLUE, SG42a, 43a.
The cover is tied by individual strikes of "17 6.20" circular date stamps, with red registration cachet at lower left, and Bern arrival backstamp (14 VII 20).
Only 1,980 and 720 of the scarce surcharge stamps were issued respectively, and they are rarely seen on cover, with commercial usage unknown.
Trivial cover blemishes mentioned for accuracy, still very fine.
Accompanied with a Philatelic Foundation of New York (PF) certificate (1983) as Scott Nos. 52 and 54.
A fascinating and rare piece of postal history.
BUY NOW: Order online, by phone +44 (0)1534 639 998, or via email info@paulfrasercollectibles.com
Payment & Security
Your payment information is processed securely. We do not store credit card details nor have access to your credit card information.