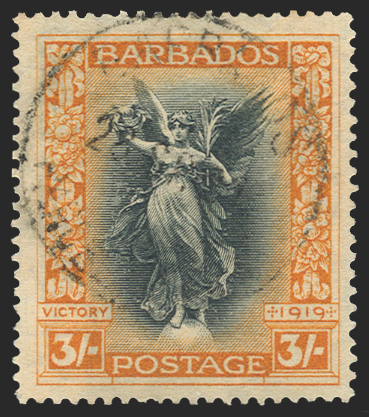 BARBADOS 1920-21 Victory 3s black and dull orange (USED), SG211a
Barbados 1920-21 'Victory from Victoria Memorial, London' 3s black and dull orange, variety 'C' OF 'CA' MISSING FROM WATERMARK, SG211a. Lightly cancelled by 'BARBADOS/28 SP 21/PARCEL POST' type H2 circular date stamp, which leaves 'Victory' clear.
Fine appearance although with a minute tear at upper right, and a few faintly toned perforations on reverse, not detracting from overall quality.
This is an extremely rare watermark variety and the only recorded used example in existence.
The Victory stamps, issued to celebrate peace and victory following the end of World War I, remain to this day one of the most popular issues from Barbados.
This new watermark variety was first discovered by an Australian stamp dealer in 2015 and certified by the Royal Philatelic Society London.
The Stanley Gibbons catalogue value is £1,500.
Payment & Security
Your payment information is processed securely. We do not store credit card details nor have access to your credit card information.