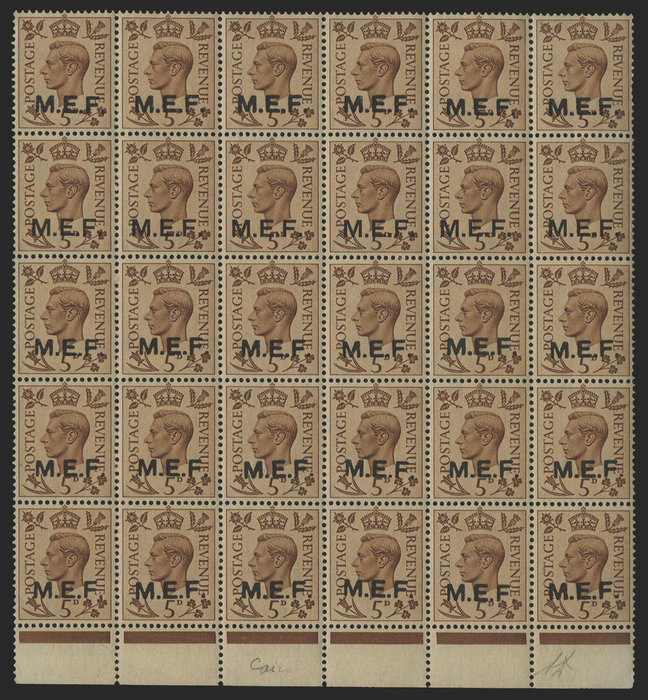 British Occupation of Italian Colonies 1942 set of 5 to 5d, SGM6/10/a/b
British Occupation of Italian Colonies (Middle East Forces) 1942 (2 Mar) set of 5 to 5d, type M2/M2a 'M.E.F.' overprints applied at GHQ, Middle East Land Forces, Nairobi, for use in Eritrea, SGM6/10/a/b.
The unique and celebrated series of se-tenant multiples comprising the 1d to 3d in lower marginal PANES of 60 (6x10) with the complete setting, and the 5d value in lower marginal block of 30 (6x5), unmounted mint with full original gum (except two stamps each in the top rows of the 2½d and 3d panes and 5d block hinged).
The panes show square stops (type M2) on rows 2, 3 and 7, with round stops (type M2a) on the other rows, yielding 18 se-tenant vertical pairs, while the 5d block includes 6 se-tenant pairs.
A wonderful and spectacular group, with the 2d, 2½d, 3d panes unique (the 1d one of two recorded) while the 5d block is the largest now surviving, from the small original printings of just 600 panes (1d, 2½d), 200 panes (2d, 3d) and 88 panes (5d), from which a very high proportion was postally used.
Quite remarkable pristine unmounted mint very fine and fresh quality, other than the odd inconsequential blemishes (faint gum yellowing, 5d with a couple of trivial tones, 2d pane with minor separation), mentioned for accuracy, but in no way detracting from the importance and superb appearance of this remarkable assembly.
Provenance: Ex Gian Maria Rossi collection (Warwick and Warwick 8 June 2005, lots 172, 174, 176, 179, 182).
Accompanied with a Brandon certificate of authenticity (1999) for the 5d block.
The Stanley Gibbons catalogue value is £53,880++.
BUY NOW: Order online, by phone +44 (0)117 933 9500, or via email info@paulfrasercollectibles.com
Payment & Security
Your payment information is processed securely. We do not store credit card details nor have access to your credit card information.