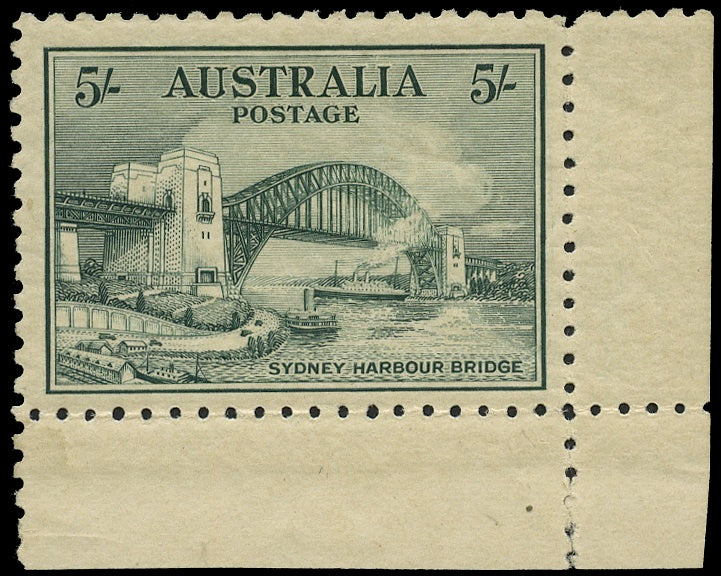 Australia 1932 5s blue-green 'Sydney Harbour Bridge', SG143
Australia 1932 5s blue-green 'Sydney Harbour Bridge' lower right corner example, SG143.
A very fine unmounted mint positional example with full original gum. Some minor wrinkling. Most attractive example with particularly good perforations. 
Stanley Gibbons catalogue value: £425.
The 'Sydney Harbour Bridge' stamp is considered one of Australia's most popular stamp designs.
It was issued on 14 March 1932 commemorating the opening of the iconic landmark, the Sydney Harbour Bridge. The bridge took eight years to build using 53,000 tonnes of steel.
The design features the bridge from the South-East with a large liner, R.M.S Orford passing beneath to provide a perspective of size.
The opening of the bridge was a momentous occasion. It is estimated that up to 1 million people gathered around the harbour to witness the grand opening.
The task of designing the stamp to commemorate this epic moment in Australian history was given to the Note Printing Branch. The bridge was only partly constructed at the time and they were expected to come up with their design based on drawings of the proposed bridge.
The stamp designers became avidly interested in monitoring the bridge's construction, ultimately enabling them to come up with a design capturing the spirit of the new bridge.
The accolade of the ultimate chosen design went to R.A. Harrison and the engraving by F.D. Manley.
It truly is a stunning stamp and a masterpiece with incredible complexity encompassed within the design held on a tiny piece of paper.
Payment & Security
Your payment information is processed securely. We do not store credit card details nor have access to your credit card information.