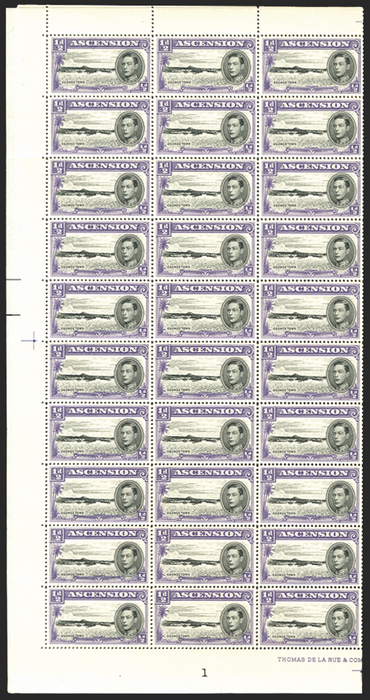 ASCENSION 1938-53 ½d black and violet variety, SG38b/ba/bb
Ascension 1938-53 ½d black and violet, perforations 13, folded sheet of 60 (6x10) with full margins showing imprint and plate numbers.
The various frame plate re-entries are present (R2/2 the most prominent), and the 'Torpedo flaw' at R3/4. Also includes the vignette variety 'Long centre bar to E' on R2/3, and other flaws (R1/1 'dot in sky', R10/3 'spot on nose'), SG38b/ba/bb.
A fine quality sheet, unmounted mint with full original gum.
Very scarce and quite remarkable in this intact form, with the 'Torpedo flaw' present only on the 1944 printing (King George VI Commonwealth catalogue number: CW14c).
The Stanley Gibbons catalogue value is £356+.
Payment & Security
Your payment information is processed securely. We do not store credit card details nor have access to your credit card information.