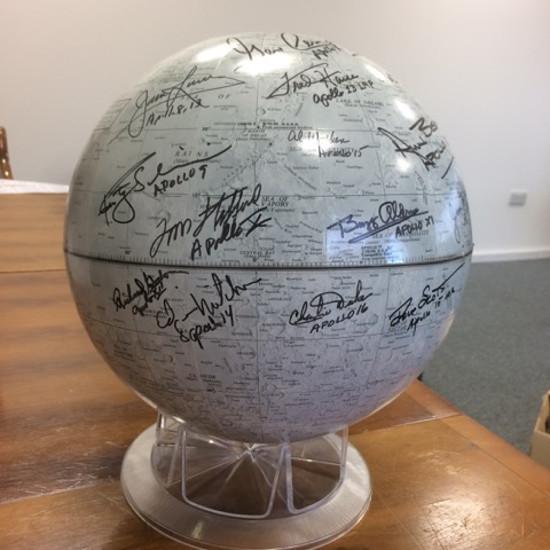 Apollo Astronaut Signed Moon Globe
A globe of the Moon signed by 15 Apollo astronauts, including six of the 12 "Moonwalkers"
Accompanied by a photograph album of each astronaut signing
Truly one of the most exciting pieces of space memorabilia we've ever offered.
The Apollo program was NASA's third foray into human spaceflight and operated from 1961 through 1972. 
It succeeded in putting the first men on the Moon with the Apollo 11 landing in 1969, a defining moment in human history.
This Moon globe is signed by 15 astronauts, from Apollo 7 (1968) through to Apollo 17 (1972).
Those signatories include: Al Worden (Apollo 15), Dick Gordon (Apollo 12), Charlie Duke (Apollo 16), Ed Mitchell (Apollo 14), Buzz Aldrin (Apollo 11), Alan Bean (Apollo 12), Jim Lovell (Apollo 13), Fred Haise (Apollo 13), Rusty Schweickart (Apollo 9), Dave Scott (Apollo 15), Gene Cernan (Apollo 17), Jim McDivitt (Apollo 9), Tom Stafford (Apollo 10), Walt Cunningham (Apollo 7) and Ken Mattingley (Apollo 16).
That list includes six of the 12 "Moonwalkers" (Aldrin, Bean, Scott, Mitchell, Duke and Cernan).
The globe measures 12 inches in diameter and rests on a clear plastic stand. It features topographic information on the lunar surface and notes on the Apollo landing sites.
Incredibly, this piece is accompanied by a photograph album showing each of the astronauts signing it. This level of provenance is extremely rare in the industry.
All of the astronauts have signed in black pen on the Moon's near side (the side facing Earth). Buzz Aldrin has signed next to the Apollo 11 landing site, close to the Sea of Tranquility.
The globe has been very well cared for and the condition is excellent. A wonderful display piece with great eye appeal.  
Payment & Security
Your payment information is processed securely. We do not store credit card details nor have access to your credit card information.