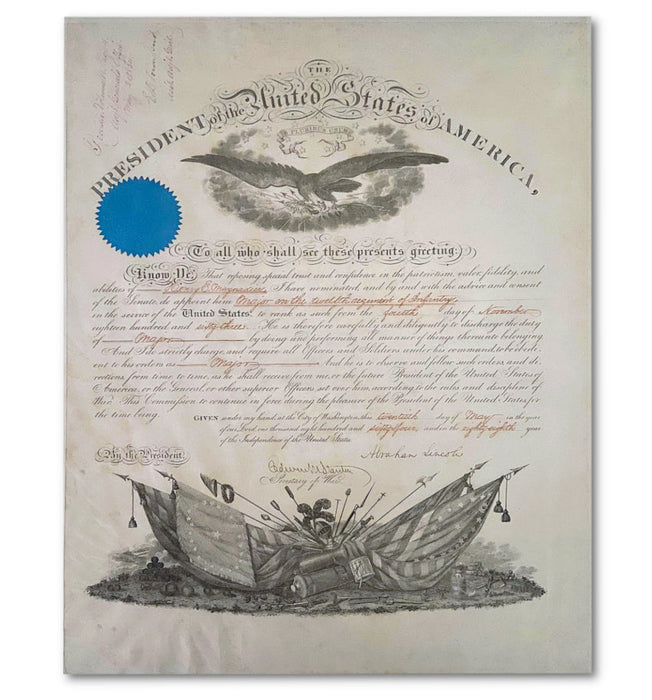 Abraham Lincoln signed U.S Civil War military commission
A military commission signed by Abraham Lincoln as President during the U.S Civil War in May 1864
Professionally restored and mounted on archival backing paper

Sixteenth President of the United States (1809-1865), Abraham Lincoln successfully led the country through its greatest constitutional, military and moral crisis – the American Civil War (1861-1865).
Lincoln is credited with piloting the Union to victory and ending slavery in North America.
 He was assassinated at the close of the Civil War in April 1865.
The document relates to Henry E. Maynadier (1830 – 1868), a former commander of Fort Laramie in Wyoming.
Lincoln signed this document on May 20, 1864, and promoted him to the rank of Major.
Maynadier is famous for helping to bring peace between the U.S Army and the Lakota Sioux tribe, through his friendship with Chief Spotted Tail.
The document measures 14.5 x 19 inches and is beautifully illustrated with the engraved eagle and flag vignette.

The original embossed, blue paper seal also remains intact.
President Lincoln signs 'Abraham Lincoln' just below the partly printed text.
The signature is crisp, clear and prominent.
The document is also signed by Edwin M. Stanton, Lincoln's Secretary of War.
The document has been professionally restored, and is mounted on archival backing paper ready for framing and display.

A superb piece of American history, signed by one of the nation's greatest Presidents.
Provenance: Ex Stanley Gibbons
Free global shipping. 28-day returns. Certificate of Authenticity and our Lifetime Moneyback Guarantee of Authenticity included.
Payment & Security
Your payment information is processed securely. We do not store credit card details nor have access to your credit card information.