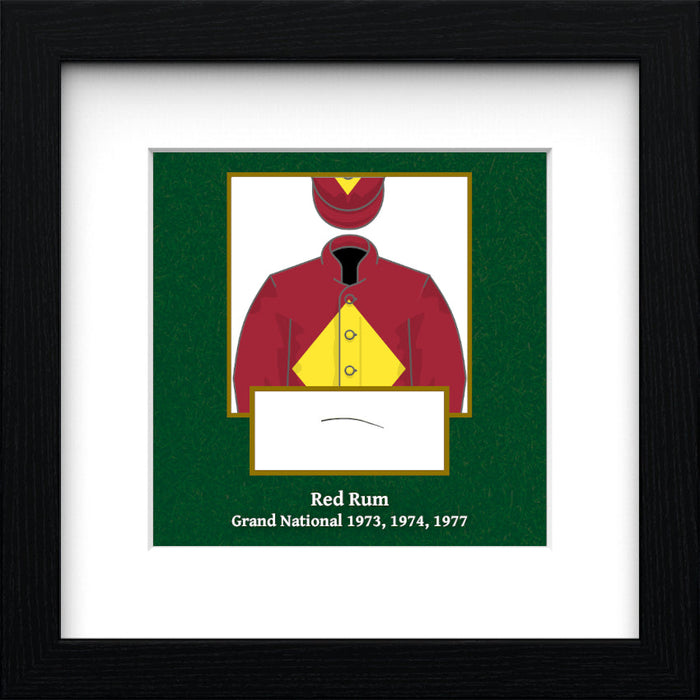 A strand of racehorse Red Rum's hair
A single strand of racehorse Red Rum's tail hair
Removed from Red Rum in May 1973 - just two months after his first Grand National victory
Superb provenance from the famed horse hair collection of Michael Tanner
A rare chance to own a piece of the great Grand National horse
Red Rum became a household name as the only horse to ever win the Grand National three times. He won the race in 1973, 1974 and 1977 and today remains the most famous steeplechaser of all time.
This single half-inch strand of Red Rum's hair is presented on a display card inside a 7" by 7" frame, ready to hang or stand.

Other tail hairs available in this series include many of the all time greats of British and American horse racing:

Aldaniti, Alleged, Alynsheba, Arctic Tern, Arkle, Assert, Badsworth Boy, Be My Guest, Bet Twice, Blazing Saddles, BlueBird, Blushing Groom, BoldBoy, Bregawn, Brigadier Gerard, Buckskin, Burrough Hill Lad, Busted, Bustino, Caerleon, Chief Singer, Claude Monet, Comedy of Errors, Commanche run, Corbiere, Dawn Run, Desert Orchid, Diamond Edge, Don't Forget Me, El Gran Senor, Forgive n Forget, Freddie, Furego, Gallic League, Gaye Brief, Glint of Gold, Green Desert, Grittar, Hallo Dandy, Henbit, John Henry, Jupiter Island, Kalaglow, Known Fact, Kris, Last Tycoon, Law Society, Le Garcon D'Or, Lear Fan, Legend of France, Lomond, Lyphard, Magic Mirror, Manila, Master Smudge, Midyan, Mill Reef, Morston, Mtoto, Never so Bold, Nijinsky, Northern Dancer, Nureyev, Paean, Penoil, Persian War, Petit Etoile, Reach, Risk Me, Riverman, Sadlers Wells, Sagace, Secretariat, Shadeed, Shardari, Sharpen Up, Sharpo, Shernazar, Shirley Heights, Siberian Express, Slip Anchor, Spanish Steps, Steinlen, Storm Bird, Tate Gallery, Teenoso, Teleprompter, Ten Up, The Dikler, The Minstrel, Tingle Creek, Trempolino, Vaguely Noble, Valiyar, Wassl, Wayward Lad, Well to do and What a Myth.

Please note many of the above hairs are in very limited quantities and will be sold on a first come first served basis.
Free global shipping and Certificate of Authenticity.
BUY NOW: Order online, by phone +44 (0)1534 639 998, or via email info@paulfrasercollectibles.com
Payment & Security
Your payment information is processed securely. We do not store credit card details nor have access to your credit card information.