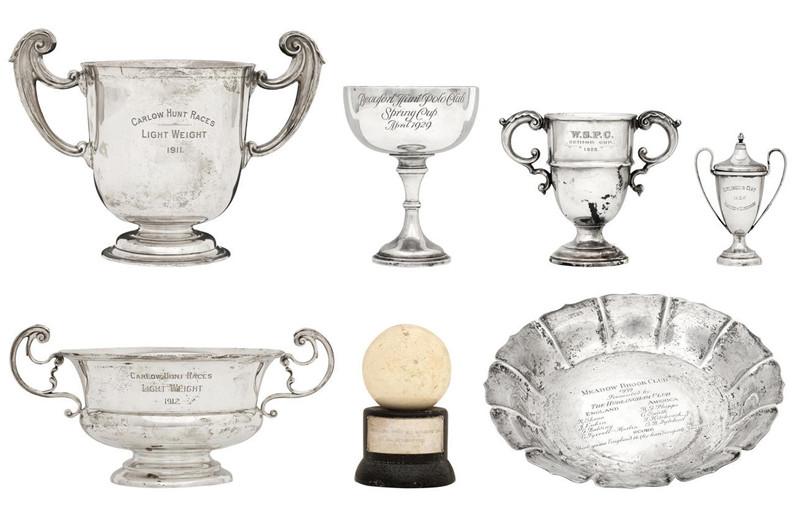 A large collection of vintage polo trophies and photo archive
A superb collection of vintage polo trophies and photographic archive relating to star player Eric Tyrrell-Martin
Discover more about this item here
Eric Horace Tyrrell-Martin (1905-1953) was an English international polo player who captained the English team in 1936. Born in Yorkshire, he attended Rugby and Cambridge before becoming a Lieutenant in the 16th Hussars. He married Edith 'Babs' in 1929, who was an exceptional sportswoman, playing tennis at Wimbledon and placing as a runner up in the All American Women's Golf Championship.
Tyrrell-Martin had a colourful polo career: he captained the English polo team against America for the Westchester Cup at Hurlingham, and was invited to represent England at the Olympic Games in Berlin in 1936, but wasn't able to accept.
He and Edith moved to California in 1936 and he spent much time travelling the world playing polo. He and Babs led a glittering social life with many famous friends and connections.
They visited the Roosevelts at the White House in 1939, and with the backing of King Farouk, Tyrrell-Martin promoted and developed polo in Egypt. Tyrrell-Martin died in 1953 as a result of injuries sustained while playing polo.
The superb collection of silver and silver-plated vintage polo trophies is complemented by two photo albums relating to the life and career of Tyrrell-Martin, as well as two address books belonging to his wife, Edith. These contain details for many celebrities including Fred Astaire, Ginger Rogers, Clarke Gable, Walt Disney, Bing Crosby and Charley [sic] Chaplin.
Trophies with inscriptions include: Carlow Hunt Races, Light Weight, 1911; Carlow Hunt Races, Light Weight, 1912; Beaufort Hunt Polo Club, Spring Cup, April 1929 (x2); W.S.P.C., Junior Cup, 1925, Templeton, 1. E.H. Martin...; W.S.P.C., Novices Cup, 1925, Chapel Brampton, 1. E.H. Martin...; W.S.P.C., Senior Cup, 1928,...; W.S.P.C., Visitors Cup, 1925, Ridley House, 1. E.H. Martin...; Midwick Country Club Open Championship, 1937, Won by Texas Rangers...; Hurlingham Club, 1926, Oxford v Cambridge; Gans Challenge Cup Deauville, 1930; Polo de Laversine, 1929; San Mateo-Burlinghame, Polo Club, High Goal Handicap, Won by...; Coupe de Bourg de Bozas, Polo de Deauville, 1929 Meadow Brook Club, 1939, Presented by The Hurlingham Club...; Cannes-Brioni-Vienna-Challenge-Cup...; Polo de Paris 1929; Chateau D'Oex, September, 1913; C.A.V., Conference, Eastbourne, 1969.
There are a small number of other trophies not inscribed.
The first photo album contains approximately 100 photographs together with some newspaper cuttings. The second houses a collection of newspaper articles mostly tracking press coverage of the Westchester Cup at Hurlingham. It includes signatures from Gerald Balding (British) and Stewart B Inglehart and Winston FC Guest (America).
There are also approximately 200 loose black and white photographs, some mounted. The largest measures 30cm x 39.5cm, with the majority at 18cm x 12cm or smaller. They depict polo matches, social events and family holidays.
A truly unique and most important collection of vintage polo memorabilia worthy of exhibit.
Free global delivery. 28-day returns. Certificate of Authenticity and our Lifetime Moneyback Guarantee of Authenticity included.
BUY NOW: Order online, by phone +44 (0)1534 639 998, or via email info@paulfrasercollectibles.com
Payment & Security
Your payment information is processed securely. We do not store credit card details nor have access to your credit card information.