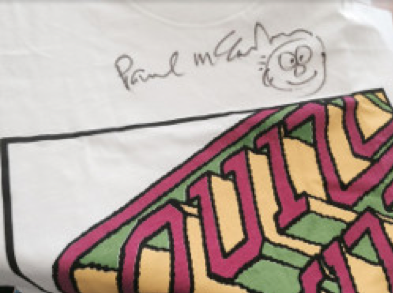 A collection of music autographs (McCartney, Jagger etc)
A fantastic collection of autographs obtained by a worker on 'Countdown', a popular Dutch music show broadcast from 1978 to the early 1990s, ranked the most popular music show in Europe at the time.

Presented in two large autograph books (both measuring 10"x8") are many dozens of autographs signed by rock and pop stars who appeared on the TV show.

Pages include a fabulous doodle by Kylie Minogue showing Michael Hutchence (see image).

A complete page of signatures by British group 'Madness' (see image).

A page signed by Adam Clayton of U2 reading "Well done, now you've got your A. Love Adam Clayton and all from U2" (see image).

A page with a comple set of signatures by supergroup INXS including "All my ever lovin!!" by Michael Hutchence, with a small doodle of a peace symbol (see image).

A page including a long handwritten note by Cyndi Lauper beginning 'Dear Countdown, I had a lovely time here... the room was really nice. I'm really sorry to hear the Netherlands and Holland are fighting..." (see image).

A page with Mick Jagger's signature and his handwritten note "Thanks everybody, especially the hockey match!" (see image).

A page with Paul McCartney's signature and his hand drawing of a small guitar, plus Linda McCartney's signature with the handwritten note "Thanx for the "lovely" make up, love Linda McCartney" (see image).

A page signed by Lenny Kravitz "Always on the run, Lenny Kravitz". (see image).

Others include a 'trumping' Chris Rea (see image), Ten Sharp, Talking Heads, Herman Brood, Alison Moyet, Five Star, Gordon Melzer, Adje Vandenberg, Dick Kemper, The Cure (with caricatures - see image), Feargal Sharkey, Echo and the Bunnymen, Doug E Fresh, Don Dixon, Steven Van Zandt, Talk Talk, Bronski Beat, Dolly Tots, Maarten Peters, Gino Vannelli, Drum Theatre, Egotists, Simply Red, Gin on the Rocks, Labyrinth, Starship, The Communards. Europe, Scorpion, Jan Hammer, Rick Astley, UB40, Adeva (with lipstick print), Rebel MC, Kaoma, Spandau Ballet, Neneh Cherry, Tanita Tikaram, Living in a Box, Technotronic, Lisa Stansfield, The Mission, Souls Sister, Urban Dance Squad, Joe Cocker and Band, Dusty Springfield, Paul Young, Concrete Blond, EMF (x2), Status Quo, Kim Appleby, Roxette, Womack and Womack, Nomad, Ten CC, The Happy Mondays, Marillion, Crystal Waters, and many many more.

Also included are two 'Countdown' t-shirts. One signed by George Michael (see image), the other signed by Paul McCartney including a doodle of a male face (see image).

A really quite outstanding collection, with many of the signers also adding personal comments.
Payment & Security
Your payment information is processed securely. We do not store credit card details nor have access to your credit card information.