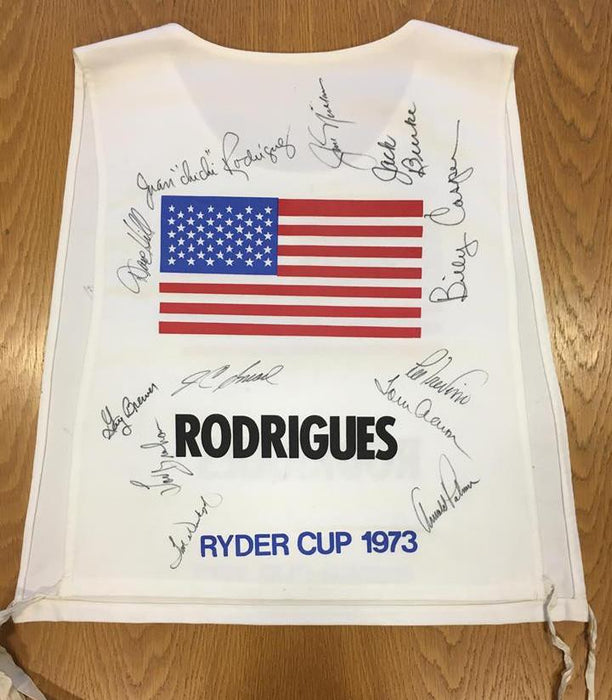 1973 US Team Ryder Cup bib signed by 21 top golfers
1973 US Team Ryder Cup caddy bib signed by 21 of the world's top golfers
Includes autographs from Arnold Palmer, Jack Nicklaus and Lee Trevino
The 1973 Ryder Championship took place at Murfield in Scotland. The US was the winning team, with a score of 19 to the British side's 13.
One of the finest pieces of golfing memorabilia we've ever handled. This stunning bib displays a large US flag along with name Rodrigues and "Ryder Cup 1973". Chi Chi Rodrigues' caddy wore it in the tournament. 
The signatures are an extraordinary who's who of golfing talent. On the front is the US team: JACK NICKLAUS, ARNOLD PALMER, LEE TREVINO, JUAN "CHI CHI" RODRIGUES, BILLY CASPER, JC SNEAD, TOM WEISKOPF, GAY BREWER, TOMMY AARON, JACK BURKE, DAVE HILL.
The reverse features a collection of British stars: TONY JACKLIN, PETER OOSTERHUIS, BRIAN BARNES, NEIL COLES, BERNARD GALLAGHER, MAURICE BEMBRIDGE, PETER BUTLER, CLIVE CLARK, CHRISTY O'CONNOR, JOHN GARNER.
The provenance is excellent. The previous owner was a guest of Lee Trevino at a meal during the tournament. He received the bib as a gift from Chi Chi Rodrigues' caddy. Trevino then passed it around the table for each golfer to sign. 
Free global delivery. 28-day returns.
Payment & Security
Your payment information is processed securely. We do not store credit card details nor have access to your credit card information.