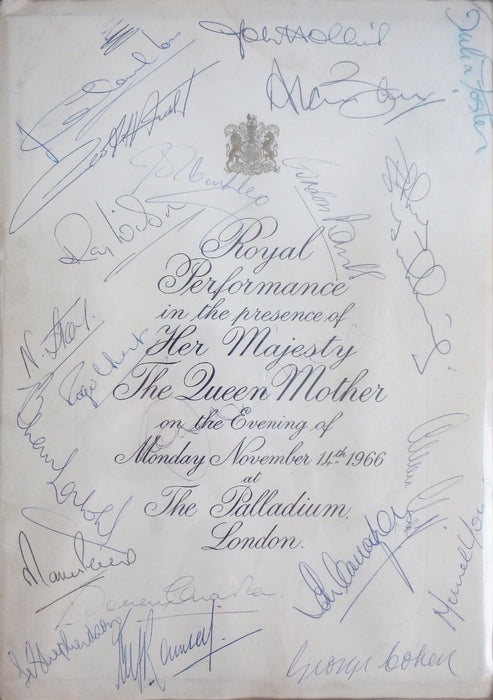 1966 England World Cup Final Autographs
Autographs from all 11 England players who starred in the 1966 World Cup Final

The attractive signatures feature on a November 1966 Royal Variety Performance programme
Additionally signed by team manager Alf Ramsey and reserve England players Callaghan, Clarke, Hollins, Tambling and Labone
Read the full story of this piece here
England beat West Germany 4-2 in the final of the World Cup on July 30, 1966. To date it is England's only World Cup triumph. 

A Royal Variety Performance programme from November 14, 1966, signed by the England football team who were invited on stage at the London Palladium during the evening's performance.

The team were gathered together as they were to play Wales in a home international game on November 16. The starting line up for the Wales match was the same as that for the 1966 World Cup Final between England and Germany earlier that year.
The 29 x 21 cm programme is signed by all 11 England players who played in the World Cup Final. It is also signed by England manager Alf Ramsey and his assistant Harold Shepherdson, as well as reserves Callaghan, Clarke, Hollins, Tambling and Labone. 
John Cushley, who at that time played for Celtic, has also signed the menu. Additional signatures include actress Julia Foster and TV presenter Muriel Young.
A rare set of autographs that is impossible to recreate today as three of the 1966 team have passed away.
Free global delivery. 28-day returns. Certificate of Authenticity and our Lifetime Moneyback Guarantee of Authenticity included. 
Payment & Security
Your payment information is processed securely. We do not store credit card details nor have access to your credit card information.