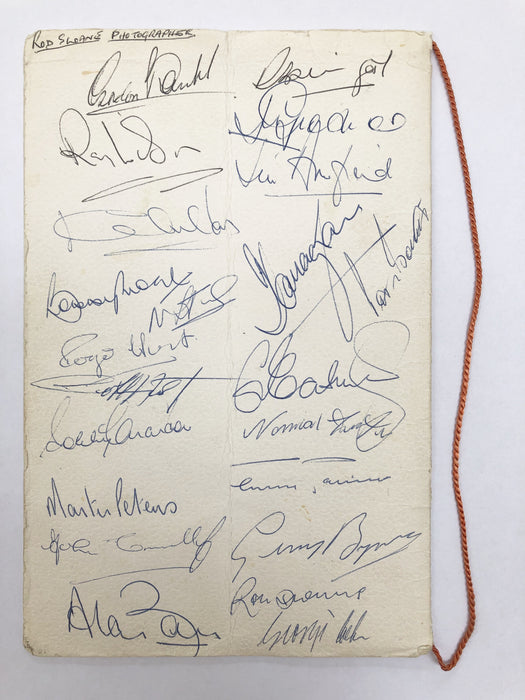 1966 England World Cup Squad Autographed Menu
Menu featuring the autographs of all 22 members of the 1966 World Cup-winning England football squad

Signed handsomely on a June 1966 Anglo-American Sporting Club dinner evening menu

Autographs obtained just 40 days before England won the World Cup
The 1966 FIFA World Cup is the only World Cup football tournament to have been won by England, who beat West Germany 4-2 in the final on July 30, 1966.

The 1966 World Cup final is remembered by football fans for a number of reasons besides being England's only World Cup victory. The game was the first (and only) time that a player had scored three goals in a World Cup final, with Geoff Hurst scoring three of England's four goals.

The game is also remembered for the controversy that surrounded England's third goal. Did Geoff Hurst's shot cross the line? 

An Anglo-American Sporting Club boxing dinner evening menu signed handsomely by all 22 members of the 1966 England World Cup football team at the London Hilton on June 20, 1966. That's just three weeks before the tournament began and a mere 40 days before England lifted the trophy.
A rare set of football autographs and impossible to recreate today, as several members of the 22 have passed away.
Free global delivery. 28-day returns. Certificate of Authenticity and our Lifetime Moneyback Guarantee of Authenticity included.  
Payment & Security
Your payment information is processed securely. We do not store credit card details nor have access to your credit card information.