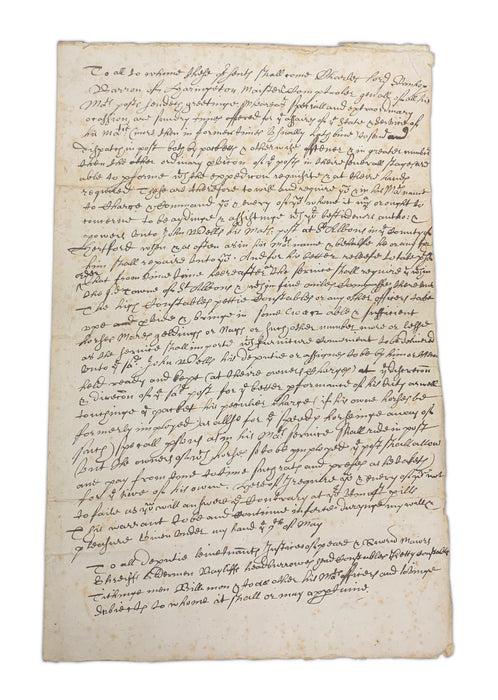 1633 warrant concerning the postmaster of St Albans
1633 warrant regarding the postmaster of English city St Albans
A fascinating piece of early postal history from Charles I's reign.
It commands several prominent individuals within St Albans and its environs to provide material assistance to the city's postmaster.
Specifically the provision of 10-12 horses.
The warrant ends with a strong warning that failure to help the postmaster will be treated severely.
Full details:
Addressed at the foot to "all deputy lieutenants, justices of peace, rural mayors, sheriffs, aldermen, bailiffs, headburrowes, head constables, petty constables, tithinge men, billy men, and all other his majesty's officers and loving subjects to whom it shall or may appertain. "
The warrant reads, in part [translated]:
To all to whom these presents shall come Charles Lord Stanhope Baron of Harrington master controller general of all his majesty's posts sendeth greeting...
...require you in his majesty's name to charge and command you and every of you whom it may or ought to concern to be aiding and assisting with your best endeavour authority and powers onto John Wells, his majesty's post at St Albans in the county of Hertford when and as often as in his majesty's name and behalf he or any for him shall repair unto you...
...The service shall require you within the centre town of St Albans and within 5 miles compass thereabout... provide and bring in some 10 or 12 able and sufficient horses, mares, geldings or nags or such other number more or less as a service shall import with furniture convenient to be delivered unto the said John Wells...
...I require you and every of you not to fail as you will answer your country at your utmost peril. This warrant to be and continue in force during my will and pleasure given under my hand the 7th of May.
This warrant is referred to in "State Papers Domestic" for May 1633.
Click here to discover more about this item.
Free global delivery. 28-day no quibble returns.
BUY NOW: Order online, by phone +44 (0)1534 639 998, or via email info@paulfrasercollectibles.com
Payment & Security
Your payment information is processed securely. We do not store credit card details nor have access to your credit card information.