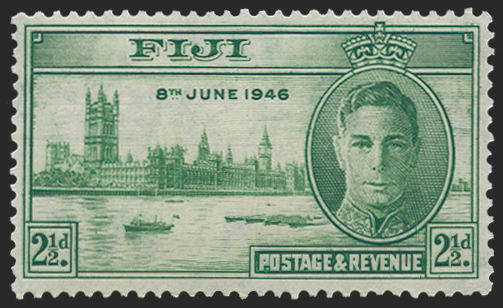 FIJI 1946 Victory 2½d green variety, SG268a
Fiji 1946 Victory 2½d green, variety 'printed double, one albino', SG268a.
A brilliant quality unmounted mint example with full original gum. In particular, the albino impression is very clear (displaced 6mm below and 5mm to left of the printed impression).
A rare variety as only one sheet was ever discovered, and exceptional condition.
The Victory stamps were issued in 1946 to celebrate the return to peace at the end of World War II. The designs feature a view of the Thames River in London, with a view of the Parliament buildings in the distance.
BUY NOW: Order online, by phone +44 (0)1534 639 998, or via email info@paulfrasercollectibles.com
Payment & Security
Your payment information is processed securely. We do not store credit card details nor have access to your credit card information.