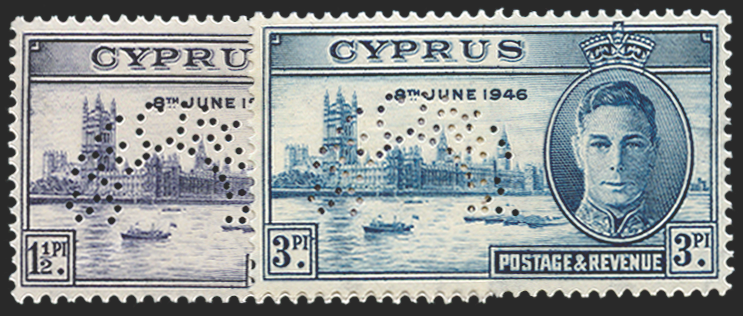 CYPRUS 1946 Victory 1½pi deep violet and 3pi blue SPECIMEN, SG164s/5s
Cyprus 1946 Victory 1½pi deep violet and 3pi blue, perforated 'SPECIMEN' (type D21), SG164s/5s.
Brilliant mint quality and exceptionally fresh with original gum. The 1½pi stamp has a light bend of no significance and mentioned purely for accuracy.
A scarce and sought after pair of stamps, which were issued to celebrate the end of World War II.
These "SPECIMEN" examples were used solely by postal administrations for reference purposes to help spot any attempted forgeries.
The Stanley Gibbons catalogue value is £190.
BUY NOW: Order online, by phone +44 (0)1534 639 998, or via email info@paulfrasercollectibles.com
Payment & Security
Your payment information is processed securely. We do not store credit card details nor have access to your credit card information.