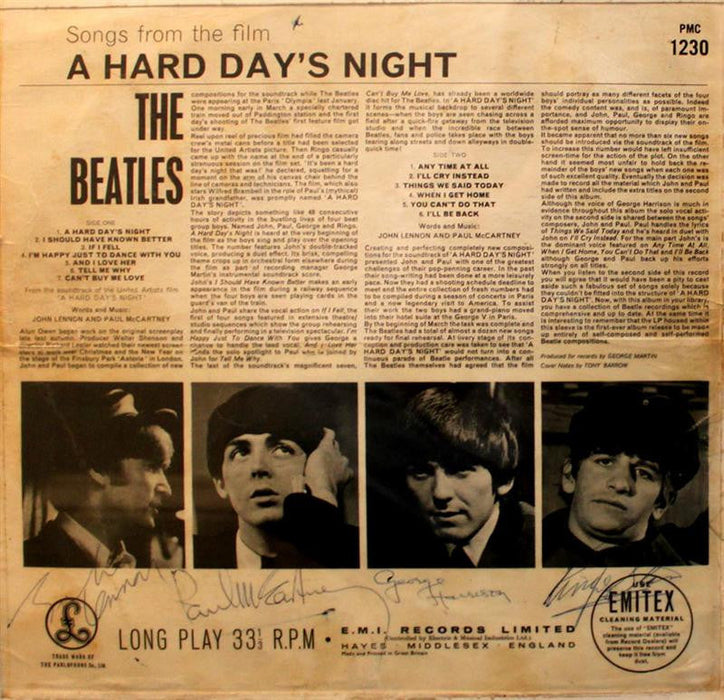 The Beatles signed A Hard Day's Night album cover
Signed clearly by all four members of the Beatles beneath their portraits
One of only 8-10 known to exist, according to Autograph Magazine's census
Superb condition, with only light wear to the edges and some toning
Click here to discover more about this item 
The Beatles and their music need no introduction. As a result of their all-encompassing impact on popular music and culture, memorabilia from the band is some of the most valuable on the market.
A Hard Day's Night, released on July 10, 1964, was the Beatles' third studio album. Accompanying the band's film of the same name, it went straight to Number One in the UK charts and stayed there for 21 weeks, spending a total of 38 weeks in the Top 20.
A Hard Day's Night saw the Beatles move away from rock n roll covers and towards their classic sound. It holds a special place with fans, as it is the only Beatles album where all the songs were written by both John Lennon and Paul McCartney. 
According to Autograph Magazine's census, there are just 125 known UK-release album covers signed by all four members of the Beatles.
Signed copies of Please Please Me and With The Beatles account for approximately 95 of the 125 known examples. 
That takes the total down to just 30.
There are only 5 known examples of Meet the Beatles, with one example selling for $115,000 in 2006.
As for signed copies of A Hard Day's Night, only 8-10 are known to exist.
This is one of them...
The signatures are in blue pen, each inscribed below the corresponding band member's photograph.
The item is in fine condition, with some light wear to the edges.
The album cover is to be sold framed alongside a black and white photo of the group, with a certificate of authenticity and lifetime moneyback guarantee of authenticity. 
This is a very rare opportunity to acquire one of the rarest pieces of Beatles memorabilia.
Free global shipping. 28-day returns. Certificate of Authenticity and our Lifetime Moneyback Guarantee of Authenticity included. 
Payment & Security
Your payment information is processed securely. We do not store credit card details nor have access to your credit card information.