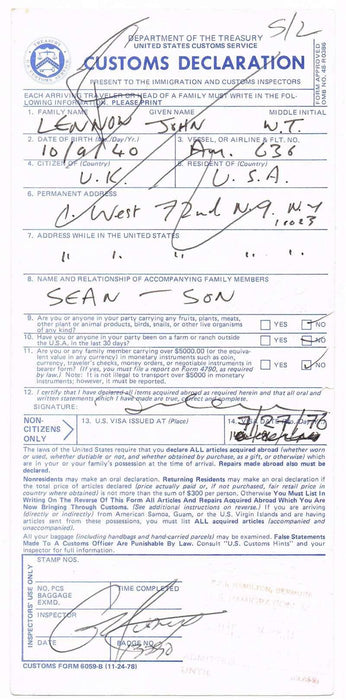 John Lennon Autograph on Customs Declaration
 A 1980 customs declaration signed by John Lennon in bold blue pen
A remarkable record of his last trip outside of the United States, daring to four months before his assassination
Includes Lennon's personal details and New York address
Click here to find out more about this piece 
John Lennon (1940-1980) was a leading member of The Beatles, the most successful pop group in history. Forming an incredible songwriting partnership with Paul McCartney, he penned some of the band's most famous hits, before going on to hold the most successful solo career following their split. 
Ranked
 8th in the BBC's 100 Greatest Britons list, and the fifth greatest singer of all time by Rolling Stone magazine, his enduring legacy continues to fascinate fans across the world. As a result, he is by far the most collectible Beatle, with his memorabilia achieving outstanding prices.
Description

This signed United States Customs Declaration, measuring 4" x 8½", was completed by Lennon less than four months before he died. Returning from a two month vacation in Bermuda in 28 July 1980, this was Lennon's last journey outside of the United States.
The singer's personal details are listed: full name, date of birth, countries of residence, address, flight details, date of citizenship, and note that he is travelling with his son, Sean. His signature, written in capital letters, is also prominent.

A list of purchases from Bermuda is also handwritten on the official slip. T-shirts, pants, shirts and a hand bag are among the items bought while travelling. The most expensive item, a commissioned painting of the singer and his son, is valued at $6,000.

The page is in fine condition, with some handling wear and ink cancellation strokes lightly touching Lennon's information. Some minor surface impressions from Lennon's declaration on the reverse. Identical forms filled in by Lennon's assistants who accompanied him on the trip, Fred Seaman and Uda Uneko, are included.

These documents are accompanied by: two reprinted photos of Lennon in Bermuda; and one reprinted photo of the painting of John and Sean Lennon on the beach, hung over a piano.
Background
At 8pm on June 4, the former Beatle boarded a 43ft sloop called Megan Jaye at Newport, Rhode Island, and set sail for the idyllic Bermuda. He was joined later by his four year old "Beautiful Boy" Sean.
While in Bermuda with son Sean, Lennon visited the botanical gardens and saw the freesia hybrid flower Double Fantasy, the name of which he would borrow for his next release. It was while in Bermuda that he wrote Woman and Cleanup Time, both of which were included on the Double Fantasy album.
The declaration reveals more about this fascinating period in Lennon's life, which has since been recorded Scott Neil's book Lennon Bermuda and is seen as a very happy time for the singer.
Through the details on the form we can reveal that Lennon's voyage was hastily planned, with the declaration recording his purchase of shorts and t-shirts while in Bermuda.
Lennon also bought a handbag, presumably a gift for his wife Yoko Ono, who he is said to have missed immenseley while away. Woman, a song written in response from a telephone call he received in Bermuda, contains the line "So let me tell you again and again and again, I love you now and forever" - a sign of their happiness at this point.
The declaration also reveals Lennon's love for his son Sean, with a $6,000 painting commissioned to immortalise their time together. A photograph of the painting accompanies the form.
Free global shipping. 28-day returns. Certificate of Authenticity and our Lifetime Moneyback Guarantee of Authenticity included. 
Payment & Security
Your payment information is processed securely. We do not store credit card details nor have access to your credit card information.