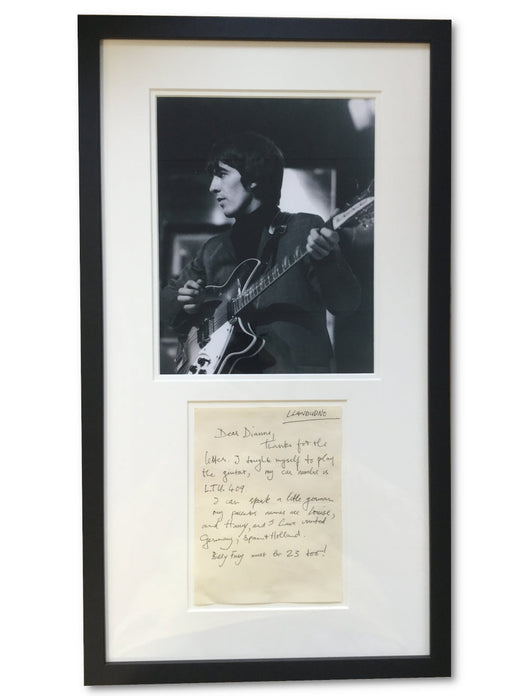 George Harrison unsigned handwritten letter to fan
An unsigned handwritten letter from Beatle George Harrison
George Harrison (1943-2001) was lead guitarist in The Beatles. He began playing with John Lennon and Paul McCartney while they were still in The Quarrymen. Harrison contributed much to the band's signature sound. His fascination with Indian mysticism led the band to adopt sounds and ideas from the subcontinent. Following the Beatles' split in 1970, he enjoyed a successful solo career.
An unsigned, handwritten letter from George Harrison to a fan.
Harrison writes: "Dear Dianne/ Thanks for the letter. I taught myself to play the guitar, my car number is L.T.U 409./ I can speak a little german my parents names are Louise, and Harry, and I have visited Germany, Spain and Holland./ Billy Fury must be 23 too!"
Harrison wrote this letter in Llandudno in 1963, where the Beatles played a concert at the height of Beatlemania.
The letter is double-matted, and displayed along with a photograph of Harrison in a custom frame with U.V display glass, measuring 36.5 x 49.5cm.
Click here to discover more about this item
Free global shipping. 28-day returns. Certificate of Authenticity and our Lifetime Moneyback Guarantee of Authenticity included
BUY NOW: Order online, by phone +44 (0)1534 639 998, or via email info@paulfrasercollectibles.com
Payment & Security
Your payment information is processed securely. We do not store credit card details nor have access to your credit card information.