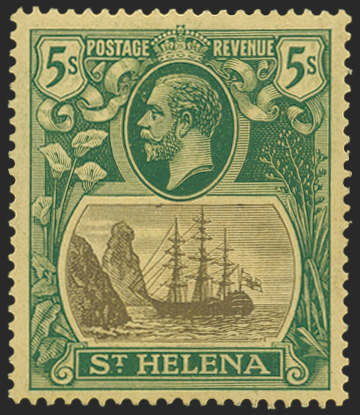 ST HELENA 1922-37 5s grey and green/yellow, (UNUSED) SG95b
St Helena 1922-37 5s grey and green/yellow, watermark MCA, variety 'Torn flag' (R4/6), SG95b.
Fine quality mint example with large part original gum. Tiny natural inclusion, still fine and fresh appearance.
Only 127 possible and it is likely that many were destroyed in 1938.
This definitive issue, first released in 1922, was designed by the St Helena-born Postmaster Thomas R. Bruce. It was similar to the 1912-16 pictorials, but instead of the Government House or the Wharf, these stamps showed the badge of St. Helena - a three-masted sailing ship near two large rocks.
The Stanley Gibbons catalogue value is £950.
Payment & Security
Your payment information is processed securely. We do not store credit card details nor have access to your credit card information.