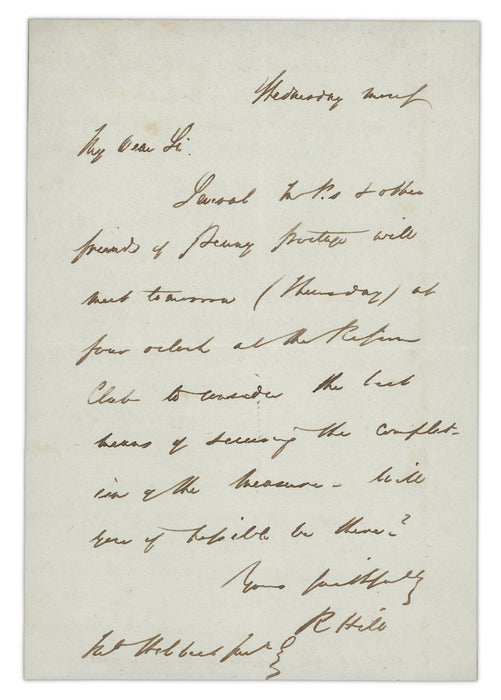 Sir Rowland Hill handwritten signed letter
A handwritten & signed letter from Sir Rowland Hill, inventor of the postage stamp.
Dated 1838, and relating to the development of the penny post
Sir Rowland Hill (1795 - 1879) was an English postal reformer famous for his development of the penny post and invention of the world's first postage stamp, the penny black, in 1840.
Hill's tranformation of the postal service in the UK soon spread around the world, and revolutionised global communication in the 19th and 20th centuries.
A handwritten & signed letter sent by Sir Rowland Hill in 1838.
Addressed to William HIbbert MP, regarding a meeting of the private Mercantile Committee on Postage which successfully campaigned for the introduction of the penny post.
This letter predates the invention of the postage stamp by two years, and as such is a significant piece for any collector of early postal history.
The letter reads in full:
"My dear sir,
Several MPs and other friends of penny postage will meet tomorrow (Thursday) at four o'clock at the Reform Club to consider the best means for securing the completion of the measure – will you, if possible, be there?
Yours faithfully, R. Hill."
On a single sheet measuring approximately 11cm by 16cm.
In very good condition, with some minor toning due to its age.
A superb piece of key postal history, and an excellent autograph relating to one of the most important inventions of the modern age.
Click here to discover more about this letter.
Free global delivery. 28-day returns.

BUY NOW: Order online, by phone +44 (0)1534 639 998, or via email info@paulfrasercollectibles.com
Payment & Security
Your payment information is processed securely. We do not store credit card details nor have access to your credit card information.