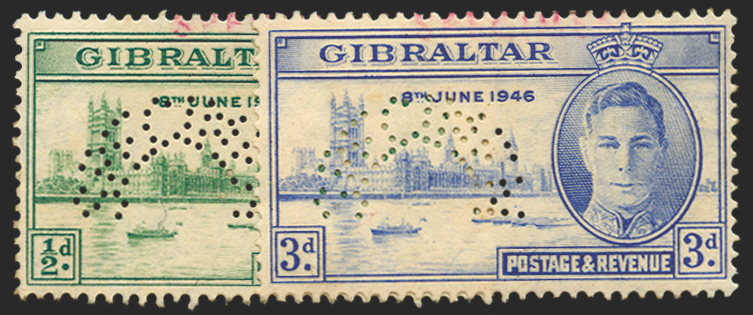 GIBRALTAR 1946 Victory ½d and 3d Specimens, SG132s/3s
Gibraltar 1946 Victory ½d green and 3d ultramarine, perforated 'SPECIMEN' (type D21) and with additional red 'SPECIMEN' handstamp applied on receipt, without gum SG132s/3s.
A little toned, but unique examples with the red 'SPECIMEN' handstamp.
Provenance: Ex Kayfetz (Harmers 14/5/97, lot 784).
The Victory stamps were issued in 1946 to celebrate the return to peace at the end of World War II. The designs feature a view of the Thames River in London, with a view of the Parliament buildings in the distance.
BUY NOW: Order online, by phone +44 (0)1534 639 998, or via email info@paulfrasercollectibles.com
Payment & Security
Your payment information is processed securely. We do not store credit card details nor have access to your credit card information.