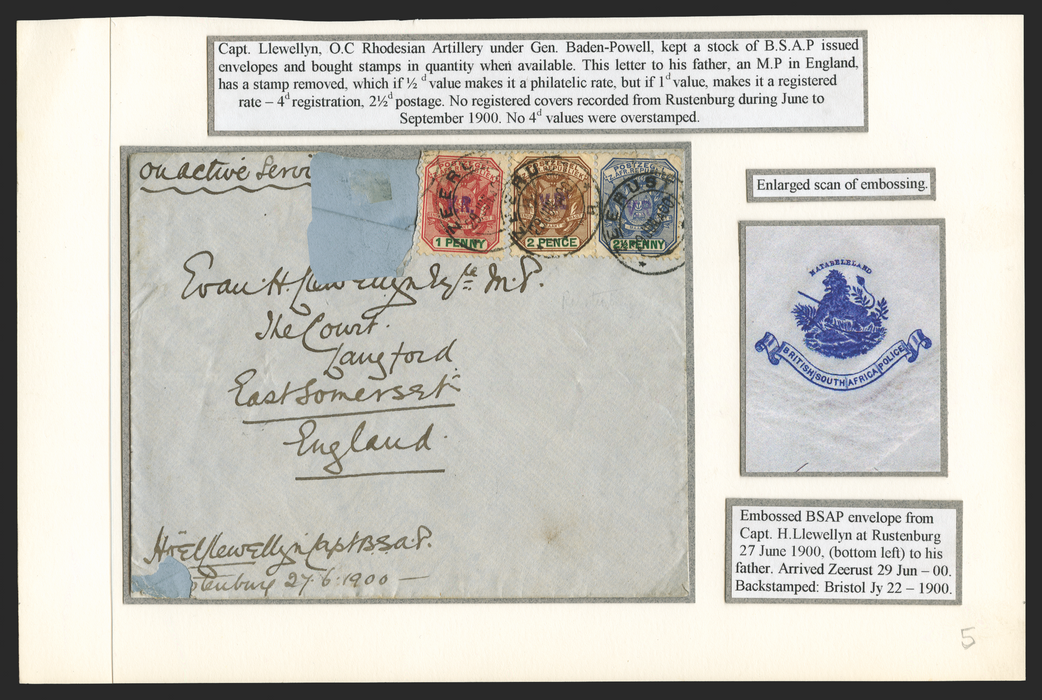 South Africa Transvaal 1900 Rustenburg Cover, SG2/4
South Africa Transvaal 1900 (27 June) 'On Active Service' cover with sender's name 'Noel Llewellyn Capt B.S.A.P./Rustenburg 27-6-1900' at lower left, to his father 'Evan H. Llewellyn M.P.' in England, franked by 1900 (22 June) 1d, 2d and 2½d, type R1 handstamp in violet, exceptionally tied by individual strikes of 'ZEERUST' circular date stamp (with Z. A. removed), dated '29 JUN 00', SG2/4.
On flap, blue embossed 'lion' logo of 'BRITISH SOUTH AFRICA POLICE' with Bristol arrival circular date stamp (JY 27 00) alongside.
Capt. Llewellyn, O.C Rhodesian Artillery under General Baden-Powell, kept a stock of British South Africa Police issued envelopes and bought stamps in quantity when available. This letter to his father, an M.P in England, has a stamp removed, which if ½d value makes it a philatelic rate, but if 1d value, makes it a registered rate - 4d registration, 2½d postage. No registered cover have been recorded from Rustenburg during June to September 1900. No 4d values were overstamped.
A very rare usage, and full of character. Capt. Llewellyn was o/c Rhodesian artillery under Baden-Powell. who had authorised the 'Rustenburg' issue.
Provenance: Ex Kenneth Griffith, and illustrated on p.57 of the book by Birkhead and Groenewald.
BUY NOW: Order online, by phone +44 (0)1534 639 998, or via email info@paulfrasercollectibles.com
Payment & Security
Your payment information is processed securely. We do not store credit card details nor have access to your credit card information.