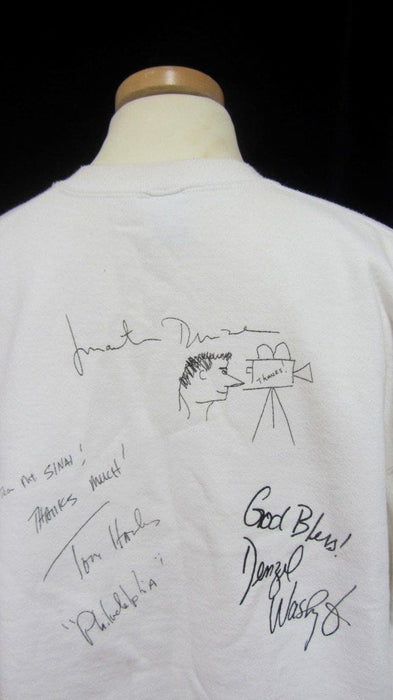 Tom Hanks, Denzel Washington and Jonathan Demme signed sweater from Philadelphia film
A white crew sweater from 1993 film Philadelphia, signed by co-stars Tom Hanks and Denzel Washington, and director Jonathan Demme
Tom Hanks and Denzel Washington are regarded as two of the finest actors of their generation. Between them the pair have four Oscars.
Directed by Jonathan Demme, 1993 legal drama Philadelphia was among the first mainstream movies to feature homosexuality, homophobia and HIV/AIDS at its core.
Hanks won the Oscar for best actor for his portrayal of Andrew Beckett.
The white crew sweater (size XL, made by Russell Athletic) features the name of the film and the words: "Filmed on location at Mt. Sinai Hospital October 1992 January 93" on the front. It also bears a red ribbon, showing solidarity with those living with HIV/AIDS.
On the back, in felt pen, are autographs and inscriptions from Hanks, Washington and Demme.
Hanks: "To Mount Sinai / Thanks much / Tom Hanks / 'Philadelphia'"
Washington: "God bless! / Denzel Washington"
Demme: "Jonathan Demme", adding a sketch of himself behind a movie camera, featuring the word "thanks".
In very good condition with some light yellowing to the neck area.
Free global shipping. 28-day returns. Certificate of Authenticity and our Lifetime Moneyback Guarantee of Authenticity included
BUY NOW: Order online, by phone +44 (0)1534 639 998, or via email info@paulfrasercollectibles.com
Payment & Security
Your payment information is processed securely. We do not store credit card details nor have access to your credit card information.