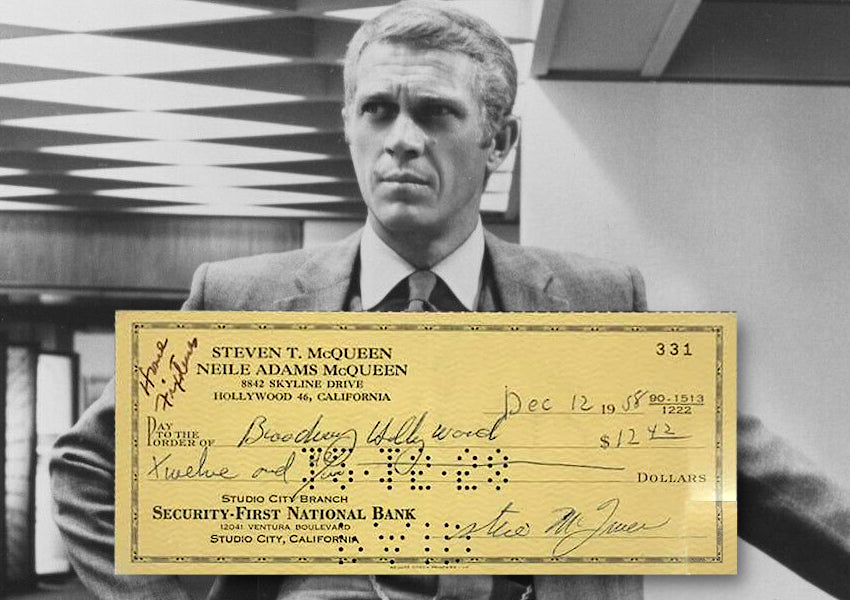 Steve McQueen signed cheque
A cheque signed by Steve McQueen on December 12, 1958
Steve McQueen (1930-1980) is among the most iconic actors of his generation. He brought a detached cool presence in a swathe of wildly popular roles, including Bullitt, The Great Escape and The Thomas Crowne Affair.

McQueen dates this cheque December 12, 1958. He got his breakout role in September that year, starring as Josh Randall in TV western Wanted: Dead or Alive (1958-1961).
The payee is Broadway Hollywood, a Los Angeles department store, while the sum is $12.42. That's just over $100 in today's money. Perhaps McQueen was treating himself to celebrate his recent success.

McQueen's autograph is unusually rare for an actor of his stature, as he hated signing for fans. The few signatures in circulation are typically found on cheques.
Free global delivery. 28-day returns
BUY NOW: Order online, by phone +44 (0)1534 639 998, or via email info@paulfrasercollectibles.com
Payment & Security
Your payment information is processed securely. We do not store credit card details nor have access to your credit card information.