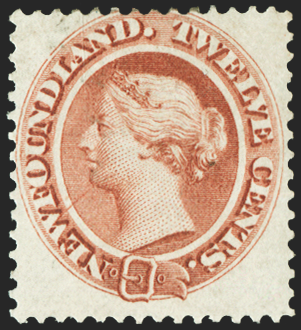 Newfoundland 1865-71 12c chestnut variety, SG33var
Newfoundland 1865-71 12c chestnut on medium white paper, showing the prominent 'Chin strap' flaw (position 68 on the sheet of 100), SG33var.
A fine mint example with fresh colour and part original gum. Some gum disturbance from hinge removal.
A scarce variety seldom seen.
Canada Unitrade catalogue #28i.
BUY NOW: Order online, by phone +44 (0)1534 639 998, or via email info@paulfrasercollectibles.com
Payment & Security
Your payment information is processed securely. We do not store credit card details nor have access to your credit card information.