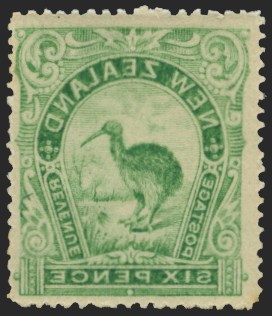 NEW ZEALAND 1898 6d green 'Kiwi' variety, SG254var
New Zealand 1898 6d green pictorial "Kiwi" stamp, showing very clear offset on reverse, SG254var.
A fine unmounted mint example with full original gum of spectacular appearance, hardly ever seen so fine. A small tone speck on lower left corner perforation mentioned for accuracy.
A spectacular and rare printing variety, particularly in unmounted mint condition.
The Kiwi is the most ancient of New Zealand's birds and unable to fly. They are unique to New Zealand and they have become a national symbol.
New Zealand Campbell Paterson catalogue number 14a(z) listed at a value of NZ$1,500 (approx £775).
BUY NOW: Order online, by phone +44 (0)1534 639 998, or via email info@paulfrasercollectibles.com
Payment & Security
Your payment information is processed securely. We do not store credit card details nor have access to your credit card information.