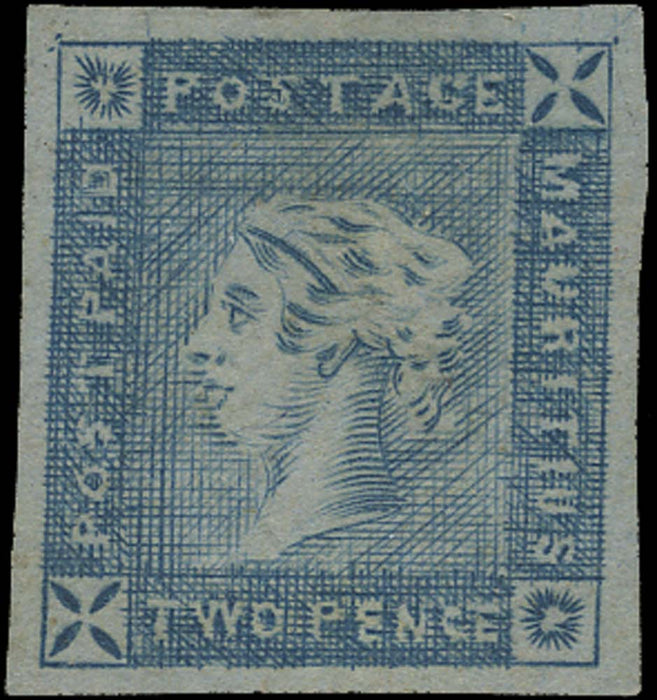 Mauritius 1859 Mint Lapirot 2d blue intermediate impression, SG38
Mauritius 1859 'Lapirot' 2d blue, intermediate impression, SG38, position 2 on the sheet with generally large margins, fresh unused.
Pressed crease at top, still a lovely example of this delicate stamp with fine colour and impression. A major rarity in unused condition, the first we have been able to offer in over 20 years.
This stamp issue is infamous for its design. It was the third stamp design issued by Mauritius, very crudely engraved by Jules Lapirot. The stamp was described as "the greatest libel upon Her late Majesty Queen Victoria that has ever been perpetrated". It was also nicknamed in France as the "tête de singe" (monkey head) issue.
Provenance: Ex Kanai (David Feldman 3 Nov 1993, lot 167) and Dale-Lichtenstein (Harmers 21 Oct 1968, lot 74).
Accompanied with a British Philatelic Association (BPA) certificate of authenticity (2020).
The Stanley Gibbons catalogue value is £15,000.
Click here to discover more about this item.
Payment & Security
Your payment information is processed securely. We do not store credit card details nor have access to your credit card information.