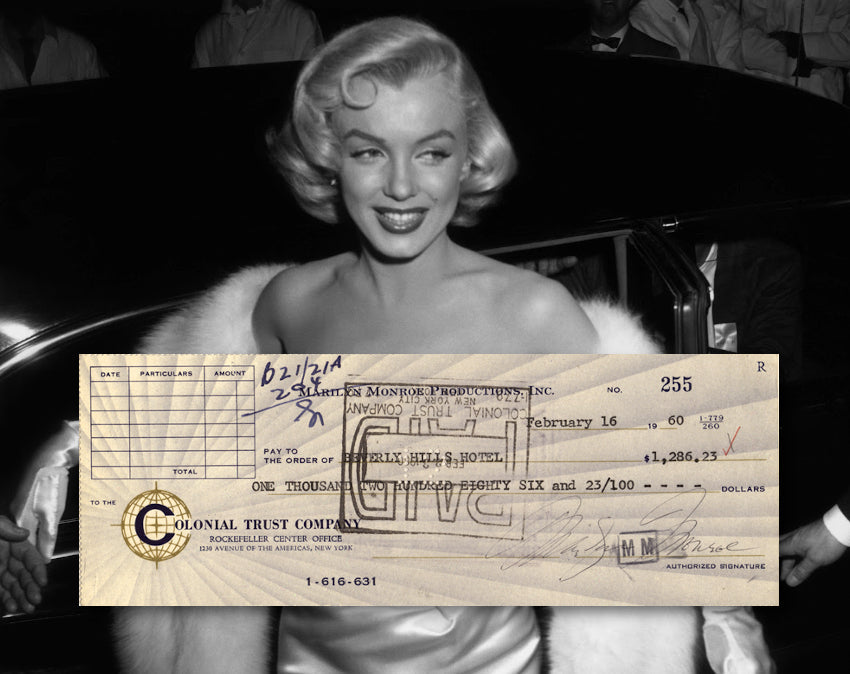 Marilyn Monroe autographed bank cheque
A bank cheque signed by Marilyn Monroe

Paid to the Beverly Hills Hotel in February 1960, where she had her famous affair with co-star Yves Montand
Marilyn Monroe (1926-1962) needs little introduction. An actress, model and entertainer, she is perhaps the most recognisable of all screen icons.
As such, her memorabilia is highly sought after, and continues to be widely collected across the world.
A Marilyn Monroe Productions Inc. bank cheque signed crisply by Monroe in black ink.
The cheque is dated February 16, 1960, and is made out to the Beverly Hills Hotel for the sum of $1,286.23
The cheque is stamped, and features the handwritten notation "B 21/21A" in blue ink.

In fine condition.
In January 1960, Marilyn Monroe and husband Arthur Miller moved into Bungalow 21A at the hotel whilst she filmed the movie Let's Make Love.
Her co-star, French actor Yves Montand and his wife Simone Signoret, stayed in the adjoining bungalow 20A.
During filming, whilst their respective partners were away, Monroe and Montand engaged in a highly publicized affair at the hotel.
We believe it's highly likely that this cheque paid for Monroe's bungalow where they conducted their famous affair.
A superb, storied piece of Marilyn Monroe memorabilia.
Provenance: ex Stanley Gibbons.
Click here to discover more about this item
Free global shipping. 28-day returns. Certificate of Authenticity and our Lifetime Moneyback Guarantee of Authenticity included
BUY NOW: Order online, by phone +44 (0)1534 639 998, or via email info@paulfrasercollectibles.com
Payment & Security
Your payment information is processed securely. We do not store credit card details nor have access to your credit card information.