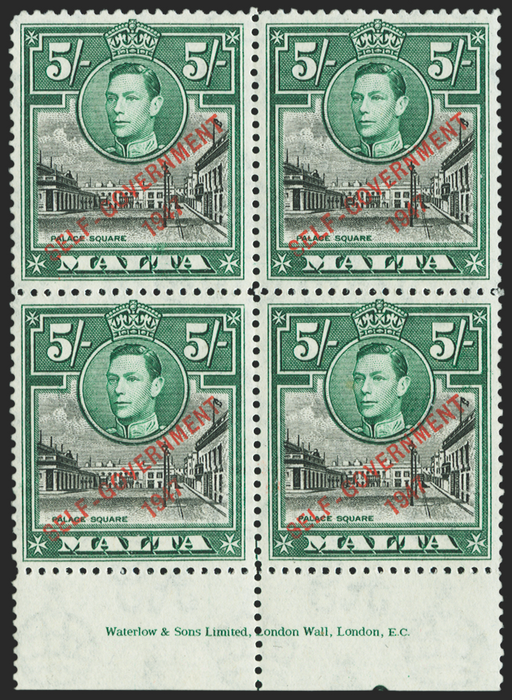 MALTA 1948-53 'SELF-GOVERNMENT' 5s black and green, SG247
Malta 1948-53 'SELF-GOVERNMENT' 5s black and green, SG247.
A stunning unmounted mint, with full original gum, block of four with imprint.
A highly attractive positional multiple of this King George VI issue.
Between 1933 and 1946, the constitution of Malta was suspended returning to British rule as a crown colony. This was because of the important of Malta to the Allied nations during World War II. The British Mediterranean Fleet was headquartered there early in the war. The Allied invasion of Sicily was launched from Malta. Prior to the Yalta Conference, Roosevelt, Churchill, and Stalin had met in Malta to begin discussions on the post-war division of Europe.
In 1947, a new constitution was implemented and internal self-government in Malta was re-established. So, yet again, during 1948 Malta stamps celebrated the resumption of internal self-government in the colony. This resulted in all the definitive stamps of King George VI being overprinted in celebration of the colony's new political status.
Payment & Security
Your payment information is processed securely. We do not store credit card details nor have access to your credit card information.