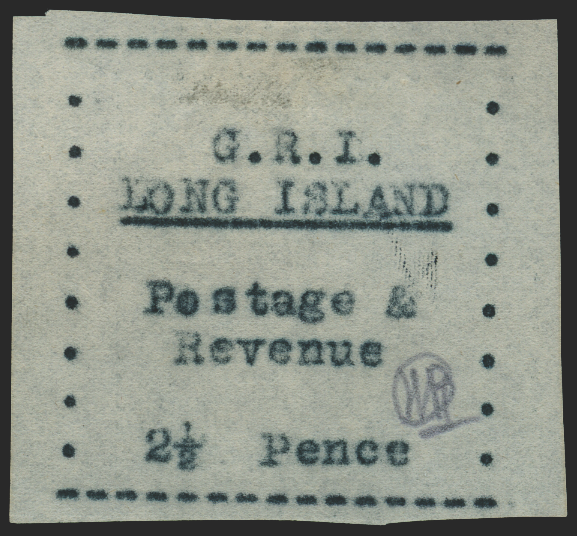 Long Island 1916 2½d black on wove, SG32
Long Island 1916 (7 May) 2½d black typewritten (carbon) on thin wove with initials in indelible pencil, SG32.
A fine mint example. There is some minor paper disturbance from a previous stamp hinge, which has been removed. It, however, remans a fine example as most examples known have condition issues.
An extremely rare stamp as only 96 were originally produced (72 carbons + 24 top copies), from which 29 were destroyed as remainders. Gibbs recorded just 22 unused examples (7 top copies and 15 carbons) and 5 used (all top copies).
The Stanley Gibbons catalogue value is £1,100.
Long Island is a small island, in the Gulf of Smyrna, which was under Turkish rule as Chustan (or Keustan). It was occupied by the British Navy during April 1916 and renamed Long Island. 
In May 1916, local stamps were issued between 7 and 26 May 1916. They were typewritten and inscribed 'GRI LONG ISLAND'. They were provided by the Civil Administrator, Lieutenant Commander H. Pirie-Gordon.
Long Island stamps are very scarce and rarely come onto the market and considered great rarities of British Commonwealth collecting. They hold a certain primitive charm and have always proved popular amongst a wide range of collectors.
Payment & Security
Your payment information is processed securely. We do not store credit card details nor have access to your credit card information.