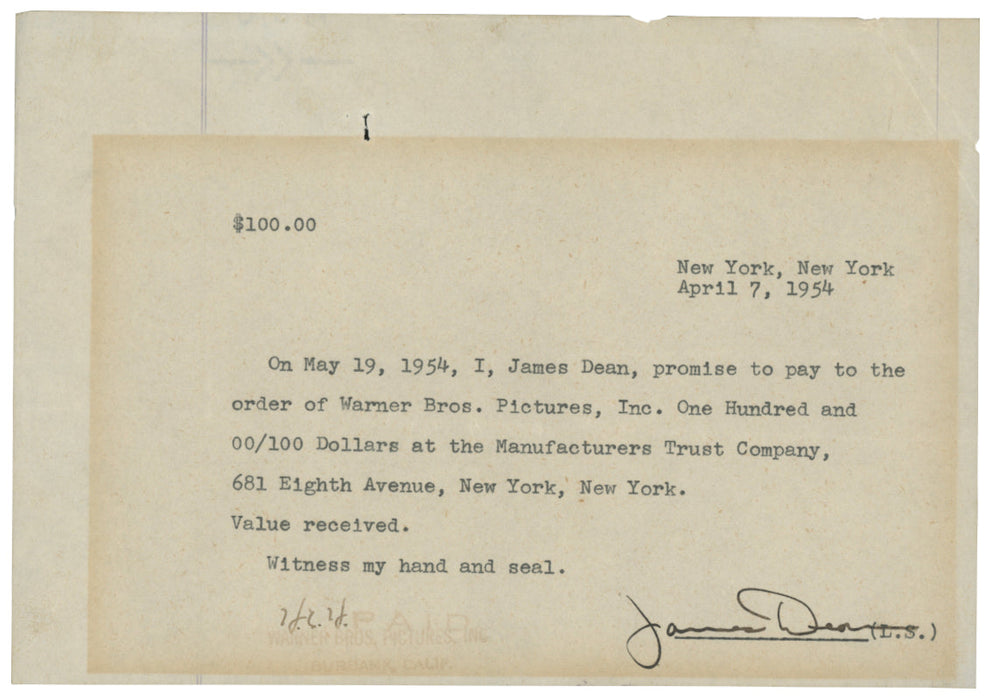 Note signed by screen icon James Dean, bearing a superb example of his autograph
Dated April 7, 1954 - the same day he signed his first Hollywood contract

Cultural icon James Dean starred in many films such as Rebel Without a Cause, Giant and East of Eden. The combination of his talent, good looks and tragic death at the tender age of 24 has cemented his legendary status.
A promissory note between James Dean and Warner Bros. Pictures.
On April 7, 1954, Dean signed his first Hollywood contract with Warner Bros. to star in East of Eden.
As part of his contract he was issued with a $700 loan to cover his travel and living expenses as he moved from New York to Los Angeles to begin filming.
Dean agreed to pay back the loan in seven weekly installments from his $10,000 studio paycheck, and signed seven of these promissory notes dated to each week.
He left New York the following day, April 8, 1954, and the rest is history.
The typed note bears the location and date "New York, April 7, 1954" and reads in full:
''On May 19, 1954, I , James Dean, promise to pay to the order of Warner Bros. Pictures, Inc. One Hundred and 00/100 Dollars at the Manufacturers Trust Company, 681 Eighth Avenue, New York, New York. Value received. Witness my hand and seal.''

The document features a fine example of Dean's signature in black ink at the bottom right of the note. To the left of the signature is a light Warner Bros. "paid" stamp and a set of initials.

The note, which features a light central horizontal fold, is double cloth matted and framed with a photograph of Dean and measures 20" x 14½" in total.
Accompanied by an unsigned vintage glossy 8" by 10" photograph of Dean in East of Eden.

This is a remarkable piece of cinema history, signed by James Dean at the exact moment his Hollywood career began.
Click here to discover more about this item.
Free global delivery. 28-day returns. Certificate of Authenticity and our Lifetime Moneyback Guarantee of Authenticity included.
BUY NOW: Order online, by phone +44 (0)1534 639 998, or via email info@paulfrasercollectibles.com
Payment & Security
Your payment information is processed securely. We do not store credit card details nor have access to your credit card information.