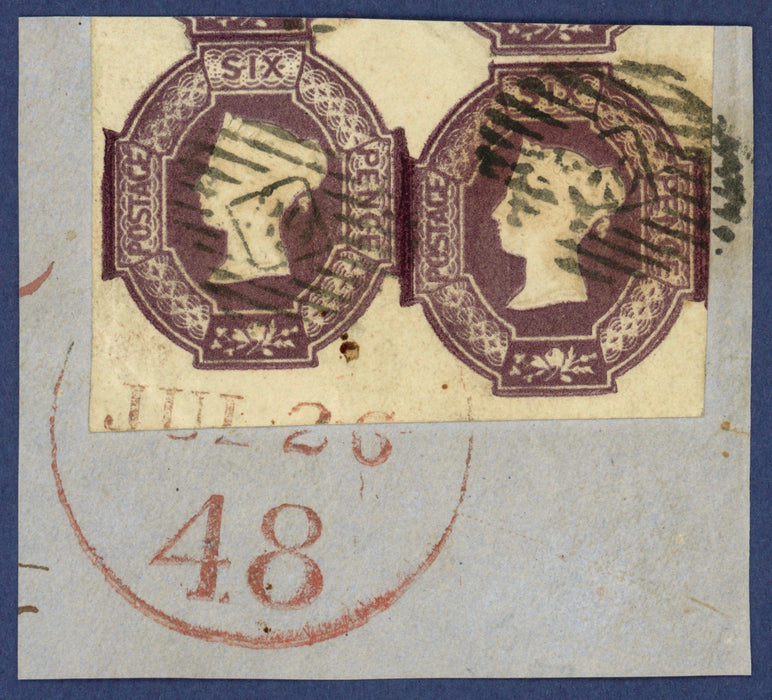 Great Britain 1854 6d purple, SG60
Great Britain 1854 6d purple, SG60.
A very fine used four margin horizontal pair neatly tied to a small piece by London City "30" numerals and a red United States "48" cent datestamp for "JUL 26".
A very attractive and scarce pair.
Accompanied with a 2007 British Philatelic Association (BPA) certificate of authenticity.
Embossed postage stamps from Great Britain were issued during the reign of Queen Victoria and were only in issue for a short period between 1847 and 1854. The 6d stamp covered the rate to Belgium.
The 6d stamp is quite unusual in that it has tinted gum. This was the result of a printing made in error on the gummed side of the paper.
The printing process for embossed stamps was laborious. Stamps were printed one at a time on silk thread paper. The design was raised and recessed to create a rough surface. The working die had to be used to apply each impression individually to the printed sheet by hand.
As a result, the impressions were usually poorly spaced, either being too close together or too far apart. It was quite common for stamps to overlap. Postal workers would then often cut around the octagonal design before they were sold.
Few quality examples were produced from the printing process in the first place. 
Stanley Gibbons catalogue value: £2,000+.
Payment & Security
Your payment information is processed securely. We do not store credit card details nor have access to your credit card information.