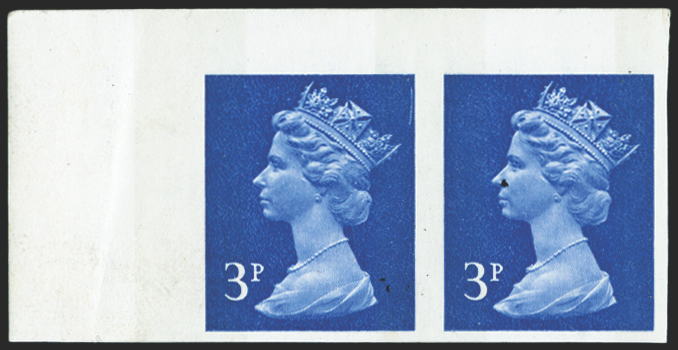 Great Britain 1973 3p ultramarine, SGX855b
Great Britain 1973 3p ultramarine (2 bands), SGX855b.
Very fine unmounted mint, with full original gum, top left hand corner marginal imperforate pair.
A very scarce imperforate Machin pair, particularly in positional form and in such pristine condition.
GB Specialised Catalogue No: U104a.
The Machin series of postage stamps is the main definitive stamp series of Great Britain, since 5 June 1967. The design by Arnold Machin consists simply of the sculpted profile of the Queen and a denomination, and are almost always in a single colour.
It is interesting that Great Britain ultimately chose a design based on a very similar concept to the first postage stamp, the penny black. The effigy on the British Machin stamps has never been updated in 55 years of service. The last time proposals to change the design were submitted, they were rejected by the Queen herself.
The Machin stamps have lived through numerous changes and innovations in British stamp printing, yet have remained much the same today as they were when they were first issued. They have become a very popular area of study to specialised philatelic collectors with an abundance of literature to support the market.
BUY NOW: Order online, by phone +44 (0)1534 639 998, or via email info@paulfrasercollectibles.com
Payment & Security
Your payment information is processed securely. We do not store credit card details nor have access to your credit card information.