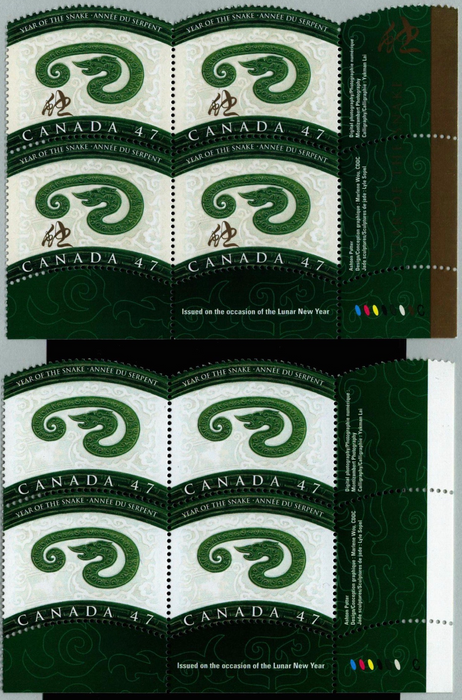 Canada 2001 47c "Year of the snake" error, SG2050a
Canada 2001 47c "Year of the snake", lower right corner block of 4 with colour dots, ERROR GOLD OMITTED, SG2050a.
A very fine unmounted mint block with full original gum. Accompanied with matching normal block for comparison.
A very rare British Commonwealth modern stamp error of missing colour. The missing gold colour results in the loss of the Chinese character.
Only four panes of 25 discovered. Initially, just two panes of 25 stamps were found in a pad of panes being sold at a stamp show in Vancouver in February 2001. It wasn't until the Royal Show in Calgary in September 2006 that a further two panes materialised. Both had been tucked away by the owner until his retirement.
A spectacular and rare positional multiple of this famous Canadian stamp error. The block of four is one of only four known.
Provenance: ex. Sir Gawaine Baillie Collection
The Canada Unitrade catalogue value is $9,500 as plate block.
The Pierron catalogue value is £5,000+.
BUY NOW: Order online, by phone +44 (0)1534 639 998, or via email info@paulfrasercollectibles.com
Payment & Security
Your payment information is processed securely. We do not store credit card details nor have access to your credit card information.